In celebration of The Onion's fictional Joe Biden releasing an autobiography, "The President of Vice: The Autobiography of Joe Biden" as a Kindle Single today, "Diamond Joe" Biden (the fake version) is doing a Reddit AMA (Ask Me Anything) this afternoon.
Unexpectedly, the office of Joe Biden (the real version) sent the following tweet when the AMA started:
Q for @reddit AMA with my @theonion pal: A Trans-Am? Ever look under the hood of a Corvette? #imavetteguy –VP twitter.com/VP/status/2923…

— Office of VP Biden (@VP) January 18, 2013
The official @BarackObama Twitter account, which boasts 26 million followers, retweeted the message.
The tweet refers to one of the most popular Onion articles about Biden, "Shirtless Biden Washes Trans Am In White House Driveway."
That article cemented the "embarrassing uncle stuck in the '70s" persona The Onion has kept up over the years.
From The Onion:
"She's a real beaut, ain't she?" said Biden, popping open a wide-mouth can of Coors Light and tilting back his head to take a long drink. "Back when Smokey And The Bandit came out, everyone wanted the black paint job, but looking back now, I'm thankful the dealership didn't have it in stock."
Today's tweet was not the first time Biden responded to The Onion. In a New York Times profile of The Onion's Biden parodies, writers for the satirical newspaper said they had heard positive word from Biden's office about the parodies, and in an article on Yahoo! News that has since been taken down, he said that he is "flattered" that The Onion realizes that their version of him is "totally inconsistent with [his] personality."
The last time The Onion got an official response from The White House, it was in the form of a cease and desist letter from the Bush administration, calling for them to stop using the official presidential seal in their George W. Bush parodies. (The Onion promptly ignored the request.)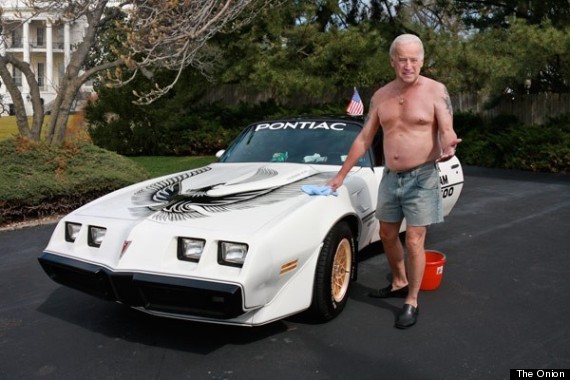 BEFORE YOU GO
PHOTO GALLERY
The Onion's Best Joe Biden Parodies