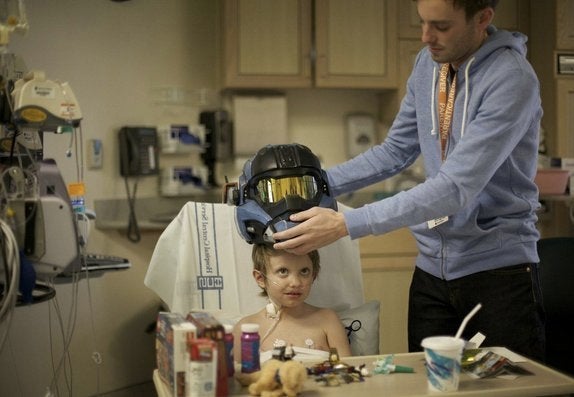 A 5-year-old fan of the video game 'Halo' who recently underwent a liver transplant got a wonderful surprise thanks to the combined efforts of his dad, the Reddit community and the famed "Halo" video game developer, Bungie.
Two weeks ago, Seattle-based dad and Reddit user "fiscal_" posted a plea on the social news site, asking fellow Redditors to help him contact the Bungie Foundation.
"My son received a liver transplant 2 days ago, we are currently recovering at Seattle Children's Hospital," he wrote. "It's been a bumpy 2 days, so I'm trying to find something to get a smile out of him. He absolutely loves 'Halo.'"
Within hours, several Redditors had stepped forward to accept the challenge -- posting the story on other social media sites like Twitter, as well as a 'Halo' message board.
By the evening of Jan. 6, the story had reached the ears of Eric Osborne, Bungie's Community Manager.
Not only did the little boy receive a custom "Get Well Soon" card signed by Bungie Studio employees, he also received a very special delivery of lots of awesome 'Halo' goodies -- including a detailed replica of Carter's helmet from 'Halo:Reach' and some t-shirts. According to the Examiner, a Bungie employee named Christine Edwards hand-delivered these gifts herself.
"My family can't thank Bungie enough. I know that they have had a huge impact on how well my son has been recovering after his surgery," "fiscal_" said in a Reddit update. "Also, thanks to everyone in this subreddit that assisted in Bungie reaching out to my son!"
Story continues after images.
In response to concerns that his young son was playing a game that has a "Mature" rating, "fiscal_" said that the boy doesn't play "like you or I."
"He doesn't just hop on multiplayer with a headset and microphone or just start playing the campaign. I'll sit down and play a part of the campaign with him, or mom will join us for our own multiplayer game," the dad explained. "He likes the idea of 'Halo' more than playing 'Halo.' His interest has transcended the games, he would rather battle it out with his Halo action figures, anyway. The Spartan storyline just gets his imagination going, it's wonderful."
BEFORE YOU GO