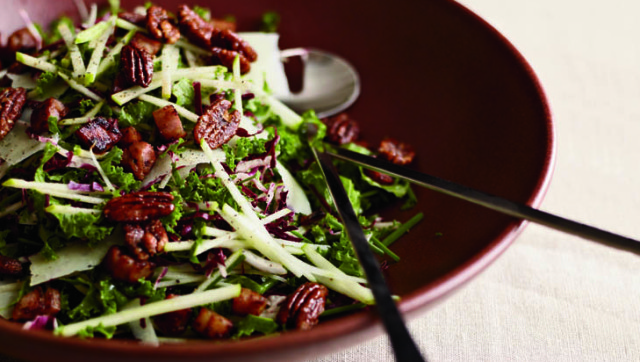 Kale is just starting to get used to the spotlight. A couple of years ago, most people had never even heard of this leafy green and now those same people are happy to massage it for a fresh kale salad recipe. With more than 50 different ways to prepare this antioxidant-rich green, preparing a kale salad recipe is definitely one of the simplest -- and maybe one of our favorites.
But don't worry, this kale salad recipe isn't all health and nutrition. It's topped with perfectly browned pancetta to add a little heft and freshly-candied pecans for a surprising sweetness.
Get the Kale & Apple Salad with Pancetta and Candied Pecans recipe
Want to read more from HuffPost Taste? Follow us on Twitter, Facebook, Pinterest and Tumblr.
Get more kale recipes!
PHOTO GALLERY
Kale Recipes
BEFORE YOU GO