Deaths from homicides weren't the only fatality numbers on the rise in Chicago last year: in 2012, the city also notched 48 pedestrian deaths, the highest since 2008.
The Sun-Times reports the 48 deaths are a troubling increase from the past three years where, according to Chicago Police figures, numbers hovered in the low-to-mid thirties.
Chicago Pedestrian Fatalities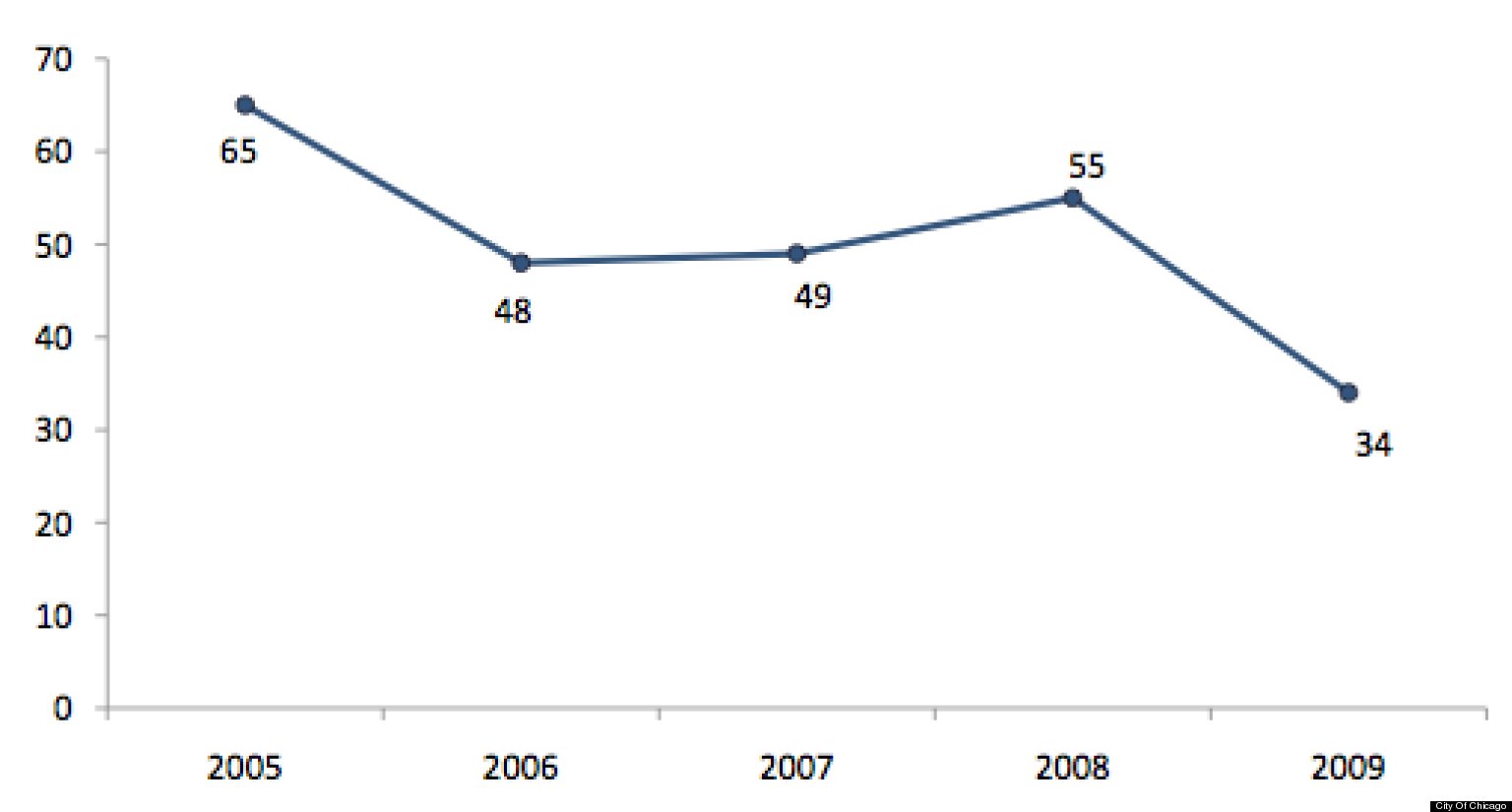 Source: City of Chicago
More than 3,000 Chicago pedestrians were hit by cars in 2011, according to the city's Pedestrian Crash Analysis.
According to city data—which covers 2005-2009 in the latest figures—"15-18-year-old pedestrians are struck by vehicles at a higher rate than any other age group." Additionally, school dismissal time coincides with when most crashes happen, between 3 and 6 p.m.
It will come as no surprise to any Chicagoan who's been nearly mowed down by a texting driver: most crashes also involve a turning vehicle.
WBEZ's news-gathering experiment Curious City delved into the question of "Why don't Chicago drivers stop at crosswalks?" in September, and used a tactic that had boosted pedestrian safety in Bogota, Columbia in the '90s: mimes (embedded above).
According to Illinois state law, drivers (and yes, bikers, too) must stop for pedestrians at crosswalks.
As Curious City pointed out, any intersection is considered a crosswalk, but up until 2010, drivers were only required to "yield," rather than come to a full stop.
A few weeks after the deadliest month of August, when 11 pedestrians killed in crashes citywide, the Chicago Department of Transportation debuted the Chicago Pedestrian Plan, listing one of its ambitious goals as zero pedestrian deaths by 2022.
According to CBS Interactive blog SmartPlanet, the plan called for more than 250 road improvements like more clearly marked crosswalks, pedestrian islands in the middle of multilane streets and boosting the number of crossing signals for pedestrians.
In the plan released last fall, CDOT Commissioner Gabe Klein said, "We face substantial challenges… Chicago has double the national average for hit and run pedestrian fatalities (40 percent)."
The first signs of the new plan started to appear in Sept., with many crosswalks re-stripped to be more visible to drivers; some pathways had crosswalk-specific stop signs added to them. Still, there's plenty of progress to be made: an NBC Chicago report revealed that post-installation, many drivers were still "confused" as to whether they should stop for the crosswalks.