Parisian artist Claire Fontaine caused fire alarm bells to ring this week when one of her neo-conceptual artworks was set ablaze in a Mission District gallery in San Francisco. Firefighters rushed to the scene of the Queens Nall Annex after receiving a 911 call only to find a torched map of the United States suspended in the middle of the room. Fontaine told authorities that the fire was intentional and was meant to be filmed as part of her exhibit, which she constructed from 25,000 matches.
No one was injured in the fire, though the gallery's walls and ceiling suffered damage. The artist maintains that the exhibit was safe, citing the fire extinguishers she had at the ready in case the demonstration got out of hand. However, fire officials disagreed, stating that she lit her exhibit out of "ignorance."
"Americans rules of safety are obviously different than other countries," Fontaine explained to KTVU. "The firemen who do dangerous and noble work come here and see people playing with fire and don't like it."
MORE ARTS NEWS:
Pricey Painting Unearthed During Hotel Renovation: A famous painting by French artist Charles Le Brun was recently discovered during a renovation at Paris' iconic Ritz hotel. The work, which hung in one of the suits frequented by Coco Chanel, has been identified by experts as an early 17th century piece and is now in the hands of Christie's auction house with a price tag as high as $665,000. (Art Daily)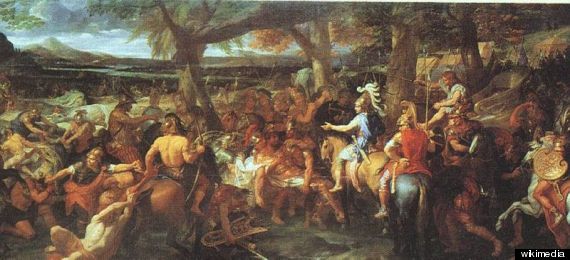 Another painting by Charles Le Brun, titled "Alexander and Porus", painted 1673.
Egypt's Artists Fight Censorship In Arts And Culture: In an exhibit titled "Long Live Free Art," artists, curators, critics and academics banned together to address freedom of expression under Egyptian president Mohamed Morsi's regime. "The new constitution puts religion above the law and civil society," says Fatenn Mostafa, the founder of the Cairo-based foundation Art Talks Egypt and the curator of the exhibition. "The fear is that the Muslim Brotherhood will specify what is allowed and what is not allowed in art. The moment you put regulations on art, you kill it." (The Art Newspaper)
Was The World's First Computer Art Found?: An anonymous IBM employee may be the first official digital artist after having recreated an image of an Esquire model on the screen of a $238 million military computer in the 1950s. You learn something new everyday, don't you? (The Atlantic)
Hillary Clinton Discusses The Diplomacy Of Art: In a recent Vanity Fair article, Secretary of State Hillary Clinton wrote about her support of the Art in Embassies program. Speaking on art's ability to influence diplomatic affairs, she wrote: "It reaches beyond governments, past the conference rooms and presidential palaces, to help us connect with more people in more places. It is a universal language in our search for common ground, an expression of our shared humanity." (Vanity Fair) Hidden Graffiti At The World Trade Center: Workers and visitors to the new One World Trade Center building have been leaving their mark on the construction site, adorning the beams, walls and stairwells of the skyscraper with personal notes. Even President Obama wrote his own message: "We remember, we rebuild, we come back stronger." (USA Today)
The Shorty Awards Are Back: The annual Shorty Awards has opened its ballot boxes, inviting art fans to choose their favorite social media icons, including "Best Museum in Social Media." The Dartmouth Museum has an impressive 25 votes, followed by the Royal Ontario Museum and the National Ornamental Metal Museum. Also up for nomination: The Museum of Icelandic Sorcery and Witchcraft. (ARTINFO)
Laurie Simmons On Daughter Lena Dunham's Nude Scenes: Photographer Simmons talks to Vanity Fair on her recent "Girls" stint and her daughter's numerous nude scenes. We thought Lena's logic was pretty sound: "My dad paints penises for a job, so I've had to look at his art my whole life. So he can look at this."
PHOTO GALLERY
Sarah Ferguson's Hillary Clinton Art
BEFORE YOU GO