Hillary Clinton's testimony on Benghazi was Wednesday's biggest news story. She answered pointed questions about the September attack on the U.S. diplomatic mission in Libya, faced tough criticism from members of Congress and made some pretty badass "are you kidding me?" faces. So naturally, Fox News program "The Five" chose to summarize Hillary's hours of testimony in four offensive bullet points.
The Huffington Post's foreign policy correspondent Joshua Hersh captured a screenshot of this baffling visual and tweeted it: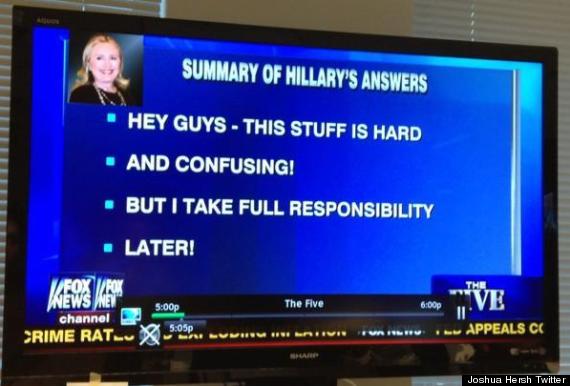 This isn't the first time that Fox News has aired a segment lashing out at Hillary Clinton. In June 2012, the network hosted author Ed Klein who called Clinton "overweight" on-air.
Fortunately, Hillz is tough. Judging from all of the amazing GIFs of her that came out of yesterday's hearing, she knows how to deal with disrespectful men -- just give a blank stare and move on.
[H/T Jezebel]

BEFORE YOU GO
PHOTO GALLERY
Awesome Photos Of Hillary Clinton