Last week the Associated Press detailed the hopeful and defiant messages scrawled by construction workers on the iron and concrete of One World Trade Center.
This week, a New York Daily News "exclusive" sheds light on the other graffiti at the city's tallest building: the racist, sexist, and anti-Semitic vitriol written on the plywood walls of the temporary men's bathrooms, located on every fifth floor of the 104-story skyscraper.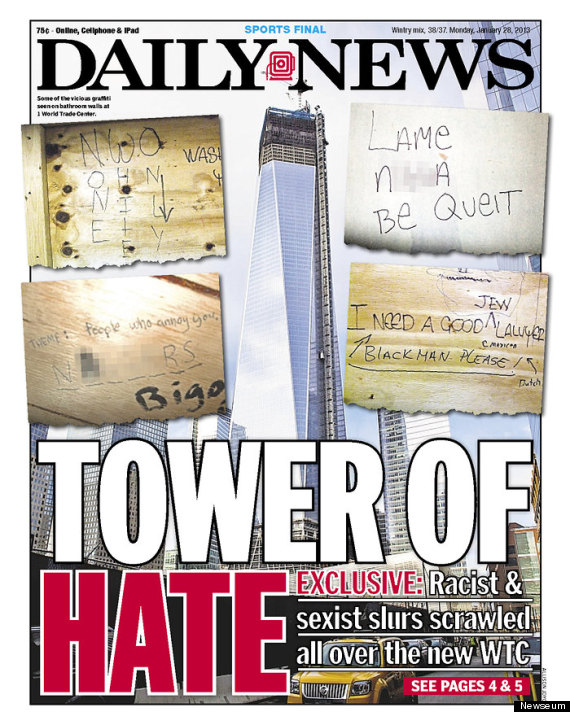 "Most of it's racial," a source at One WTC told the News of the workers' messages. "Most of it — I mean, there's a lot of stuff with the N-word. But pretty much every race is covered: Spanish people, Irish people, Jewish people, women."
Some of the graffiti lowlights:
"Whites Only!"

"Where's Obama's birth certificate!!!"

"Irish: Take a bath you smelly f**s."

"Woman don't belong in construction! Maybe painting, that's it. Then who's gonna (perform a sex act on) us?"
Want to read more awfulness? Head over to the "Tower Of Hate" exclusive. Or, as one News commenter notes, check out any public restroom in the city.
"Racist and sexist comments scrawled on bathroom walls," writes BZORN22. "Really. Check out any public toilet in NY and maybe even in the world and you will see the same thing. In other news the sun came up in East this morning."
Meanwhile, workers are busy building the 800-ton, 408-foot spire that will sit atop the high-rise, set to be the tallest building in the Western Hemisphere.
One World Trade Center is expected to be open for business in 2014, over 12 years after the attacks of September 11th destroyed the Twin Towers, killing more than 2,800 people.

BEFORE YOU GO
PHOTO GALLERY
WTC Messages Of Hope