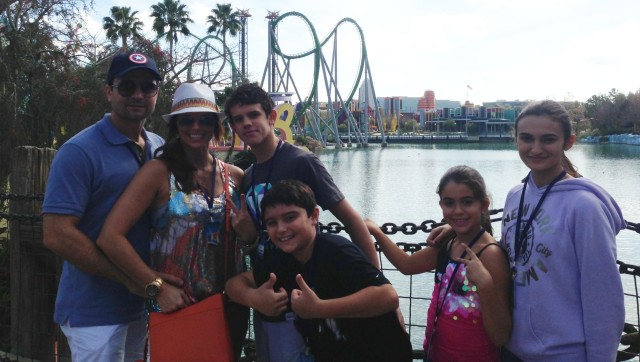 Daniela, la hija menor de Rashel Díaz cumplió 9 años y su mamá se lo festejó en grande y en varios días, concluyendo con un broche de oro: pasar con su hermano Juan Daniel, el novio de su mamá Lisandro y los hijos de este Kaitlyn y Enzo, tres días en Disney y Universal a donde la niña fue a enfrentarse con su miedo a las montañas rusas.
"La pasamos muy lindo. Primero le hicimos una fiestita en mi academia de baile aquí en Miami con mis alumnas y la familia y después nos fuimos para Disney y Universal con mis dos hijos, mi novio Lisandro y sus dos hijos", le cuenta Rashel a HuffPost Voces.
La familia se tomó tres días para recorrer los parques que pidió Daniela, que fueron: Magic Kingdom, Universal Studios y Island of Adventure. Este último dice Rashel que terminó siendo el preferido de la familia, en especial de la festejada porque con esa visita se propuso vencer su miedo.
"Daniela tenía un reto y era montarse en las montañas rusas como Hulk, Space Mountain y The Mommy no solo si ya tenía el tamaño para subir, sino si ella vencía el miedo (risas). En la primera le dio un poco de miedo pero una vez que la montó me hizo repetirlo ¡tres veces!", cuenta muerta de la risa Rashel.
MIRA EL CUMPLEAÑOS DE LA HIJA DE RASHEL EN FOTOS:
PHOTO GALLERY
BEFORE YOU GO
Rashel Díaz en Disney
PHOTO GALLERY
Rashel Díaz en Disney
Y NO TE PIERDAS A ESTOS FAMOSOS COCINANDO: