We're sure you've noticed our singular focus on snacks as the Super Bowl gets closer and closer. But we're hardly content to just think of our own dream Super Bowl snacks (there are a lot of them) -- we want to know everyone else's as well.
We asked a few of our favorite food nerds what their dream Super Bowl snack would be: Chef Josh Sobel from Brooklyn's Court Street Grocers, the inimitable Noah and Paul from The Way We Ate and our favorite boozehounds at Liquor.com. Below, you'll find their answers to this burning question, along with recipes for each. What's your dream Super Bowl snack?
Josh Sobel, Chef at Court Street Grocers: The Man Loves Hoagies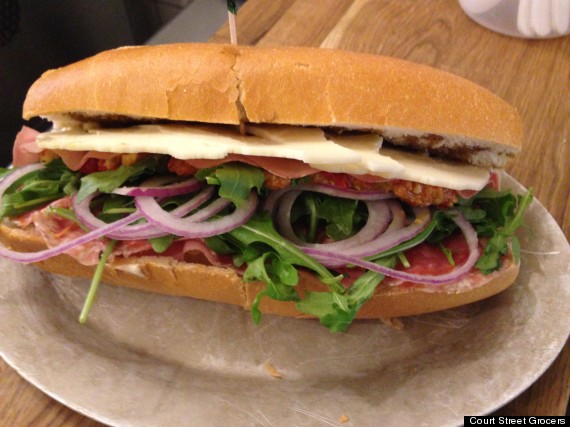 "I was born and raised in Philadelphia, so every sporting event was enjoyed while eating hoagies. I honestly think that at every Super Bowl party I can remember attending there was a hoagie platter, all the way back to when I was a little kid. I think they are the perfect game time food, because you can make them well in advance of kick off time, they actually get better as they sit out at room temperature, and they can be eaten with one hand -- leaving the other hand free to drink beer, grab chips and high five your bros!
When the hoagie sits out for a length of time, especially while still tightly wrapped in paper, all the flavors start to meld together and become one, like a sandwich Voltron. [*Ed Note: "Sandwich Voltron" is one of the coolest things anyone has ever said to us.] So you can put out a tray of hoagies at the start of the game and not worry about it until the game is over. I think the rest of the sandwich is self explanatory, but the dressing is what makes it great."
Hoagie Dressing
1 cup chopped pickles
1 cup pitted green olives
1 cup pickled Hungarian goat horn peppers, (we use Mama Lil's brand, available at CSG)
1 cup mild pickled banana peppers
1 tablespoon dry oregano
1 teaspoon crushed red chili flake
1 tablespoons balsamic vinegar
1/4 cup extra virgin olive oil
Combine all ingredients in a food processor and pulse until evenly chopped. Store in refrigerator in a jar with a tight fitting lid. Dressing will keep for a few weeks.
Noah Fecks + Paul Wagtouicz, The Way We Ate: An Homage To Bacon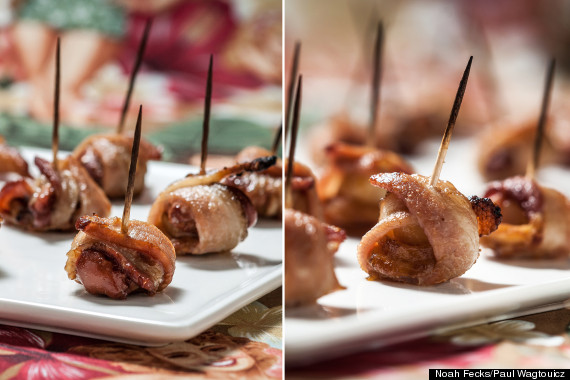 "You may not be the biggest football fan out there, but who doesn't love an excuse to see friends, make some food and bring out the bacon? Considering how popular bacon has become as an ingredient from appetizers to desserts, it's kind of surprising that rumaki hasn't stood the test of time as a go-to snack for a large group. Rumaki is pretty easy to make ahead, hard to find people who don't love it and rather fun to say out loud. Honoring the very first Super Bowl from 1967, now is the perfect time to revisit this retro classic.
In the event not all your party guests are "beak-to-claw" diners, consider making two batches and varying the recipe. Noah is a lover of liver, so his main ingredient of choice is the classic chicken liver, though he advises you to go for quality by choosing Murray's, Bell and Evan's or similar premium, organic livers for a creamy texture and nutty taste. Paul, meanwhile, is staying true to his Baltimore roots and swapping the organ meat for seafood -- selecting sweet, petite bay scallops which are the perfect size for hor d'oeuvres. If bay scallops aren't available you can cut regular scallops into thirds or quarters. The fat from the bacon will keep the scallops from getting dry or overcooked."
Super Bowl Rumaki -- Two Ways
1/4 pound high quality chicken livers
1/4 pound bay scallops or regular scallops
1 teaspoon mild curry powder
2 tablespoons dark brown sugar
2 tablespoons peeled, grated fresh ginger (do not use dried)
1/4 teaspoon white pepper
1 teaspoon sriracha sauce or chili paste
1/2 cup low sodium tamari or premium soy sauce
2 - 8 oz. tins whole water chestnuts
12 thin slices premium bacon
approx. 50 small wooden picks
Soak wooden picks in water for an hour.
Combine curry powder, sugar, ginger, white pepper, sriracha and tamari in a small bowl and mix thoroughly. Separate mixture into two small bowls.
Rinse, clean and pat dry chicken livers. Cut them into 24 evenly sized pieces, and add them to one of the bowls of sauce.
Rinse, clean and pat dry scallops; if necessary, cutting them into 24 evenly sized pieces. Add them to the remaining bowl of sauce.
Cover both bowls with plastic wrap and allow them to marinate in the refrigerator for 1/2 hour.
Preheat oven to 450 Degrees.
Slice 12 strips of bacon lengthwise, then crosswise to make 48 small strips of bacon. Slice water chestnuts crosswise to make 48 pieces.
Drain the livers and the scallops and discard sauce. For the liver rumaki, start with a small strip of bacon flat on a work surface, laying the water chestnut in the center of the strip flat side down, and top with a piece of chicken liver.
Wrap the ends of the bacon over the top from each side, and pierce with a pre-moistened wooden pick. Make 24 pieces. Repeat with remaining bacon, water chestnuts and scallops to make 24 pieces. (Rumaki may be prepared up to this point, placed on a covered platter and refrigerated for up 6 hours.)
Place all 48 pieces on a wire rack. Set wire rack onto a rimmed baking sheet which has been lined with tin foil (if you don't have a wire rack, it's totally ok to proceed without). Bake at 450 Degrees for 10-15 minutes; once the tips of the picks begin to darken and the ends of the bacon become crispy, they're ready.
Serve immediately with soy sauce, hoisin sauce or sriracha sauce.
The Boozehounds At Liquor.com: The Spazerac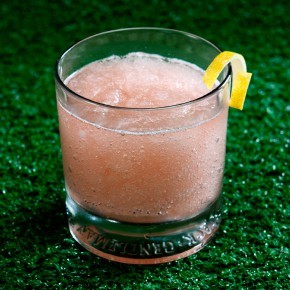 We'll let everybody else handle the munchies; since we're Liquor.com, our Super Bowl recipe is going to be more… well... spirited. For a special occasion like this, we want to serve our guests more than just six-packs of beer. This isn't just any given Sunday, after all. So we'll be fixing the delicious Spazerac.
The creation, dreamed up by all-star bartender Tad Carducci, takes the classic Sazerac -- a blend of rye whiskey, absinthe, bitters and sugar -- and turns it into a frozen slushie. It's also a nod to New Orleans, host city for the big game, since the Sazerac was supposedly invented there. Sure, it's a bit unconventional, but we think even Vince Lombardi wouldn't have been able to resist trying it. Now, let's play some football.
Spazerac
Contributed by Tad Carducci
2.5 oz Rye whiskey
.5 oz Simple syrup (one part sugar, one part water)
1 tsp Absinthe
.25 oz Fresh lemon juice
3 dashes Peychaud's Bitters
Garnish: Lemon twist
Glass: Old Fashioned
Add all the ingredients to a blender with just under 1 cup of ice. Blend until smooth and pour into an Old Fashioned glass. Garnish with a lemon twist.
Want to read more from HuffPost Taste? Follow us on Twitter, Facebook, Pinterest and Tumblr.
BEFORE YOU GO
PHOTO GALLERY
Nacho Recipes