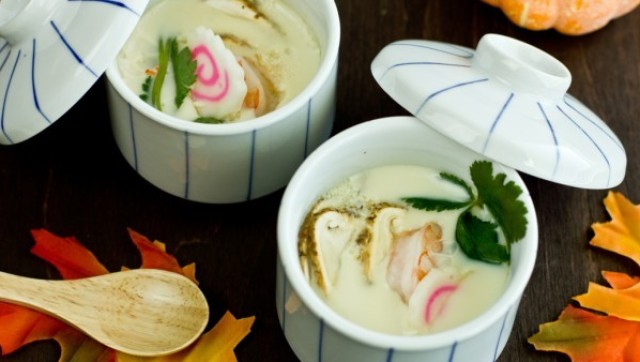 Because all we do is read about, think about and write about food, we get extra excited when a dish takes us completely by surprise. That's what happened the first time I ate chawanmushi, a savory Japanese egg custard. I will be honest with you, "savory Japanese egg custard" as a phrase just does not do this magical thing justice. What I expected, when I ordered chawanmushi for the first stime, was sort of a warm panna cotta. What arrived was a magic trick, hidden in a small cup.
Chawanmushi is made by pouring a dashi and egg mixture over seafood, meat, vegetables or tofu that have been seasoned with sake, soy, etc. -- the first one I had was at Blue Ribbon Sushi in New York, and it was studded with shrimp, eel, crab and shiitake mushrooms. The custard is then gently steamed until just set. The magic happens when your spoon first breaks the top of the custard. As you scoop up tender custard, soup appears. The dashi that you mixed with the custard slowly starts to seep in through the cracks in the egg, continuously warming every bite you take. The egg takes on the texture of the softest tofu you've ever met and the little bits of seafood and mushroom are like finding buried treasure.
Chawanmushi is like a blanket in a cup and I absolutely cannot eat enough. In case that wasn't clear. The video below will give you a good look into the step-by-step, and you can get a fantastic recipe for Chawanmushi with Matsutake Mushrooms from Just One Cookbook.
Want to read more from HuffPost Taste? Follow us on Twitter, Facebook, Pinterest and Tumblr.
BEFORE YOU GO
PHOTO GALLERY
Japanese Desserts