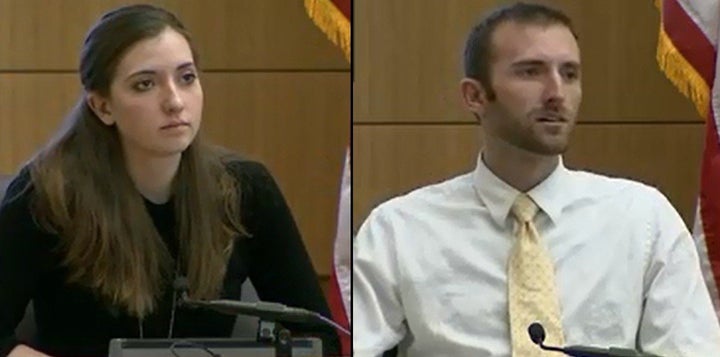 Jodi Arias' lawyers continued to attack the character of murder victim Travis Alexander in an afternoon session Wednesday, calling to the stand one of Alexander's close friends and the man's sister.
Desiree Freeman testified that she met Alexander through her brother, Daniel, and met Arias through Alexander. She went on two trips in 2007 with her brother and the couple to Sedona and the Grand Canyon, she said.
Arias, a 32-year-old photographer, is accused of shooting Alexander in the face, stabbing him 27 times and slitting his throat from ear to ear in the shower of his Mesa apartment on June 4, 2008. She has pleaded not guilty to murder, contending she was a victim of domestic violence and killed Alexander in self-defense. Prosecutors allege Arias was jealous and did not want Alexander to see other women.
On Wednesday, Freeman said Alexander treated Arias "very well," but recalled an incident during one of the trips, when Arias got out of the car to take pictures and Alexander drove forward as a joke, preventing her from getting back into the car. Freeman said this upset Arias, but Alexander's reaction toward Arias was "over the top." She could not remember exactly what was said.
Daniel Freeman testified that he had been friends with Alexander for about two or three years, and met him through his work at PrePaid legal services.
When he first met Alexander he thought he was "cocky," but they became good friends, said Freeman.
He recalled one incident, when Aria packed too many items in her backpack before a hiking trip, and Alexander became angry with her. Freeman testified that Alexander raised his voice, Arias ran upstairs crying and they continued to argue. When everyone got into the car to start their trip Alexander and Arias were not talking to each other, but within 30 minutes all was forgotten and they were joking and talking.
Following Freeman's brief testimony, court recessed until Thursday morning.
If convicted, Arias faces the possibility of the death penalty.
BEFORE YOU GO
PHOTO GALLERY
Travis Alexander - Jodi Arias Crime Scene And Trial Photos