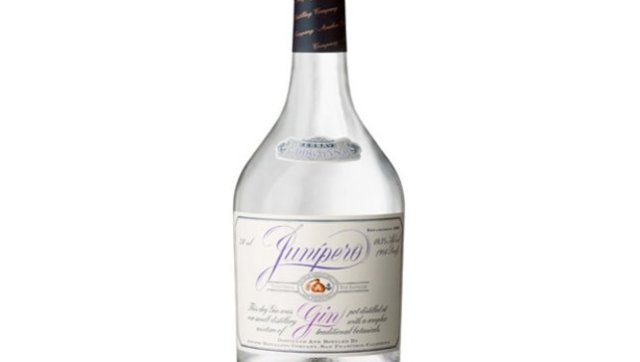 We know it's wintertime. We know that gin cocktails are generally meant to be harbingers of spring and summer. But it's always around this time of winter that we like to just go ahead and pretend like spring is right around the corner. With that in mind, let's talk about Junipero gin.
Junipero is made by the Anchor Distilling Company out of San Francisco, and they call it "San Francisco's original craft gin." First introduced in 1996, Junipero is -- to put it plainly -- a bit like gin on steroids. This stuff is high proof (at 49.3% it is nearly 100 proof), high flavor and high intensity. We love it, in case that wasn't clear. If you've tried gin and thought, "I don't like how it tastes like a Christmas tree," Junipero is probably not for you. If you prefer your martinis to be made with gin, however, and have begun to fall in love with the herbaceous, bracing quality of the spirit, this is your logical next step.
The most intense flavor note in Junipero is (surprise!) juniper berries, just like most gin, but much more pronounced. But we'd be failing you to let you think that this is a one trick pony. Like most other gins, especially at the craft-distilling level, the blend of herbs, barks, etc. infused into the liquor is proprietary and highly guarded. But we can tell you it tastes like the godfather of gin, and it's always exciting to be in the presence of a godfather. Junipero's intensely herbaceous blend lends itself to the kinds of cocktails where gin is the star of the show, like the classic Martini and the Last Word cocktail. Ready to give it a try?
You can pick up your own bottle of Junipero gin for $35 - $40.
Want to read more from HuffPost Taste? Follow us on Twitter, Facebook, Pinterest and Tumblr.
BEFORE YOU GO
PHOTO GALLERY
Herbal Cocktails