WASHINGTON -- D.C.'s Museum of Crime and Punishment is hosting a heartbreaking exhibition about dog fighting, from now through September.
"The Voiceless Victims" features items found by the American Society for the Prevention of Cruelty to Animals during dog fighting raids. The exhibit includes a nailed collar used to antagonize fighting dogs, a pit bull skull excavated from a dog fighting crime scene and an electrocution device used to kill dogs who lose fights. Michael Vick's indictment papers are also on display.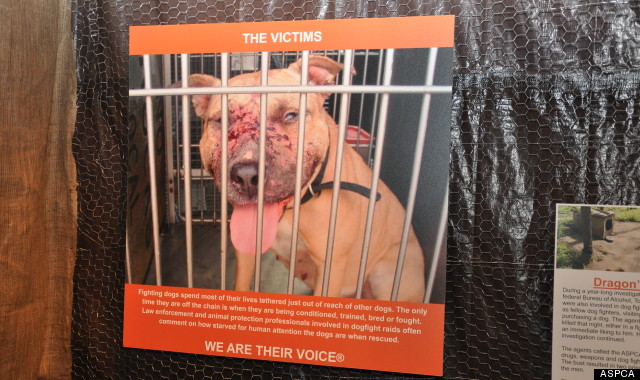 Dog fighting is illegal in each of the 50 states and in D.C. -- but the largely underground practice continues. Just last fall, nine pit bulls were seized in Alexandria, Va., rescued from a suspected dog fighting ring.
Janine Vaccarello, chief operating officer at the Crime Museum, told WTOP that "Voiceless Victims" is designed to spur action.
"We want people to leave this exhibit area and then go do something about it," he said.
Legislation introduced at the end of January would make it a federal offense to attend a dog fight, or to bring a child to a dog fight.
These dogs were rescued from suspected dog fighting ring in Plant City, Fla.:
PHOTO GALLERY
Dogs Rescued From Suspected Dog Fighting Ring
BEFORE YOU GO