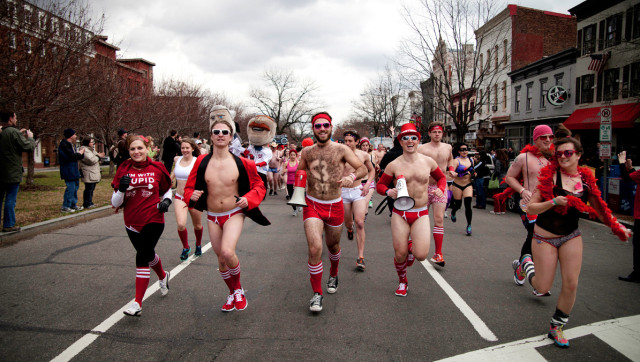 This Saturday, 8,000 runners around the world will raise money for The Children's Tumor Foundation. And they'll be in their underwear.
Chad Leather's brother was diagnosed with Neurofibromatosis (NF), a genetic disorder that allows tumors to grow on nerves throughout the body, in 2009. A few months later, in February 2010, Chad Leathers, Tamara Forys, Bobby Gill and Brendan Hanrahan started Cupid's Undie Run to raise awareness and money for The the cause.
The first race took place in D.C., and since then, the event has expanded to New York City, Atlanta, Seattle, Denver and Cincinnati. This year the race will also extend to Los Angeles, San Francisco, Chicago, Austin, Nashville, Orlando, Minneapolis, Philadelphia, Cleveland, St. Louis, Detroit and Sydney, Australia.
Click through the slideshow from runs in D.C., Denver and New York City:
PHOTO GALLERY
Cupid's Undie Run 2012
The largest organized underwear run in the world, which has raised over $400,000, has already sold out in many cities.
Interested runners can participate as individuals, join a team or create a team. Participants must be 21+ and provide valid identification. Spectators are encouraged to come out and root for the scantily clad racers.
Cupid's Undie Run will be held Saturday, February 9 for most cities, and Saturday, February 16 for Cleveland and St. Louis.
BEFORE YOU GO