An OB-GYN in St. Louis is under fire after posting a Facebook status about one of her patients. According to KMOV, Amy Dunbar, a physician at Mercy Hospital, was so frustrated with an expecting mother's lateness that she ranted about it online.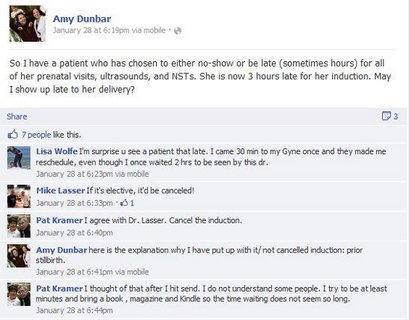 When others urged her to cancel her patient's induction, she added in the comments that she "put up" with this behavior because of a prior stillbirth. Though Dunbar didn't reveal the patient's name, controversy erupted after someone posted a screenshot of the status and the comments to the hospital's "Mercy Moms To Be" Facebook page.
Heather Tiedemann was appalled by Dunbar's behavior and posted a comment on the Facebook page:
She should not be allowed to work with patients if she callously talks about them on her own facebook page... As a woman who has had a full term still birth if I found out my doctor was posting that information on her page and other doctors were joking about it I would go straight to the top of hospital leadership to ensure this doctor was fired.
More than 50 people have "liked" Tiedemann's post, but another commenter Kerry Ann Colombo defended Dunbar stating, that she is an "amazing" doctor who "bends over backwards" for her patients. "If someone is seriously THAT late to all of their appointments I think making a sarcastic remark on facebook is no big deal in the scheme of things!" Colombo wrote.
Dunbar remains on staff, despite calls for her firing, and the hospital posted the following on Facebook:
"Our physician leadership has already called Dr. Dunbar. Her comments were definitely inappropriate. We are also reviewing them to determine if they violated privacy issues, etc. That process requires a more thorough review, but we will determine the appropriate response as quickly as possible. In the meantime, know that our physician organization holds its members to the highest standards and strives to improve our service and clinical care through that process."
In 2011, the Boston Globe reported on previous cases where healthcare professionals have gotten into trouble for posting information about their patients on Facebook and noted that some hospitals have begun to take precautionary measures. The Children's Hospital Boston, for example, published a six-page social media policy for its staff.
Bradley H. Crotty, a physician who has studied the use of social media in health care, told the Globe that if there's any question whether something is appropriate to share, it's better not to risk it. "We first have to put ourselves in the shoes of the patient we may be discussing and then reflect if what we're saying is appropriate," he said.
BEFORE YOU GO
PHOTO GALLERY
9 Things Parents Should Avoid Posting About On Facebook This Summer