A painting devoted to Pablo Picasso's golden muse, Marie-Therese Walter, wowed audiences at Sotheby's Impressionist and Modern Art Evening Sale, when it sold for millions today in London. Fancy a guess at the final price of the portrait, in all its multi-colored, cubist glory?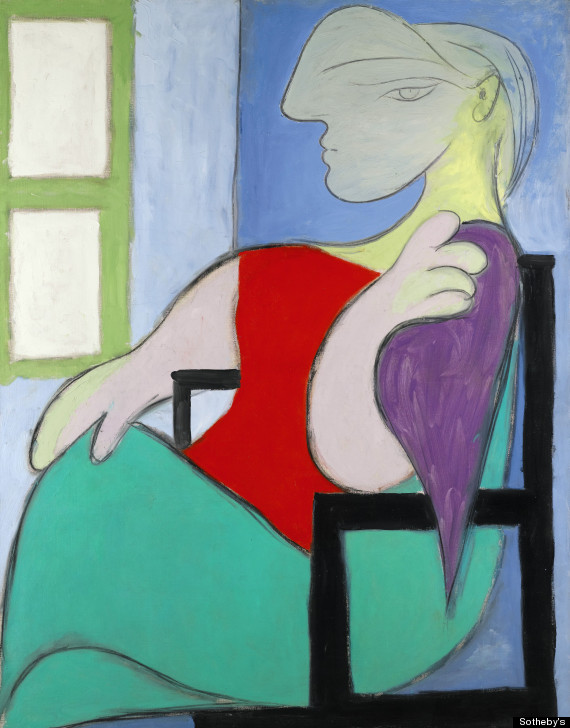 Pablo Picasso, Femme assise près d'une fenêtre, 1932 (Photo courtesy of Sotheby's)
The winning number is a whopping £28,601,250 ($45,001,207), landing somewhere in the middle of its projected price tag of £25-35 million ($39,177,500 - $54,848,500), according to a statement released by the auction house. Helena Newman, Sotheby's Chairman of Impressionist & Modern Art - Europe, called the painting a "stunning and monumental portrait," in an interview with the Associated Press.
Perhaps the story behind the expensive portrait encouraged the bidding block prices to climb. Picasso first met his extramarital muse Marie-Therese in 1927 when she was just 17 years old, and began a well-known love affair memorialized in several artworks featuring the young beauty. Their relationship, a secret to Picasso's then-wife Olga Khokhlova, became known to all when the artist's paintings of Marie-Therese hung in a major retrospective in 1932.
What do you think of the pricey Picasso portrait? Would you spend $45 million on a painting of his famous mistress? If you're now a fan of Marie-Therese, check out his other iconic muse (again, not his wife) Francois Gilot, here.
PHOTO GALLERY
The Biggest Art Auction Sales of 2012
BEFORE YOU GO