"Spring Breakers" hits theaters on March 22, and it's pretty clear the film's marketing department wants you to know the film will feature more than a couple of girls in bikinis ... but not much more.
New posters for director Harmony Korine's latest project were just released, and the artwork does a good job of showing off the film's sexy and sleazy sides.
Former Disney star Selena Gomez is front and center in cleavage-baring blue bikini, while James Franco looks hilarious and terrifying decked out in cornrows, tattoos and a handgun tucked in his pants.
The film also stars "Pretty Little Liars" actress Ashley Benson and "High School Musical" alum Vanessa Hudgen in equally tiny bikinis, as they rob a fast-food restaurant in order to finance their spring break trip to Florida. Once there, the quartet (Rachel Korine, the director's wife, plays the fourth woman) end up entangled with a drug dealer named Alien (Franco).
Expect threesomes, hard partying, and "bikinis and big booties, y'all!" (That's what life is about, at least in "Spring Breakers.") Let the debauchery begin.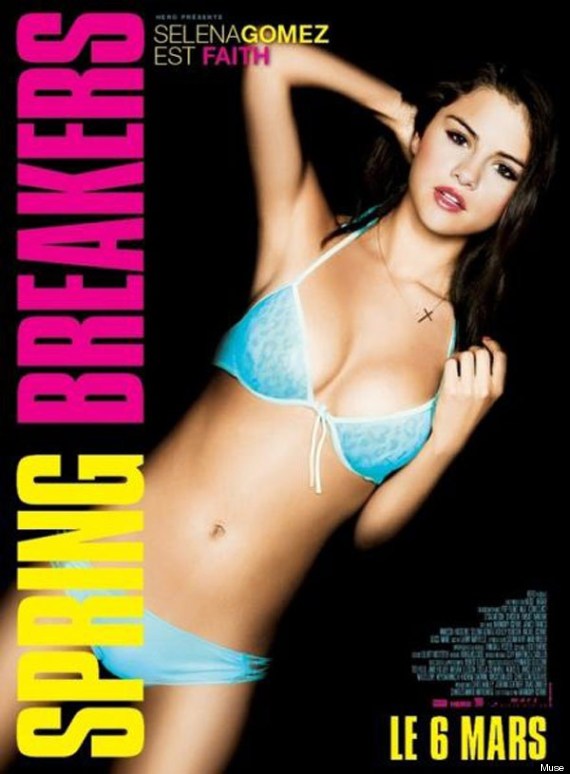 PHOTO GALLERY
"Spring Breakers"
CORRECTION: An earlier version of this post identified Rachel Korine as the director's sister.
BEFORE YOU GO
PHOTO GALLERY
Selena Gomez Photos