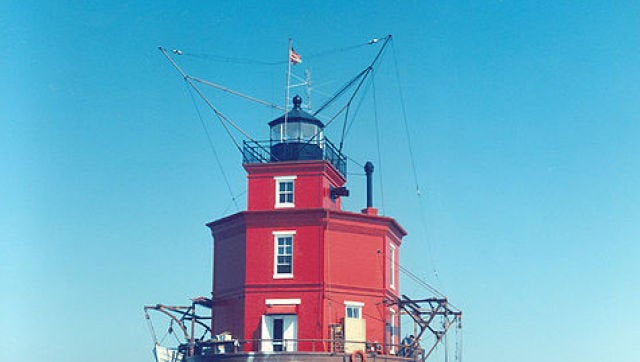 Every once in a while, a lighthouse will come up for sale. And the minds of those who crave adventure, solitude and sturdiness -- but who, paradoxically, also dream of opening a guest house, where strangers will eat homemade scones -- will begin churning, like so many waves in a storm.
PHOTO GALLERY
Lighthouse For Sale
On the market for $249,500, this three-bedroom abode (its address, charmingly, is 56 Shore Drive, and it comes with a piece of waterfront land) is said in its listing to have been built in 1894, though this would seem to conceal some interesting historical details.
According to one timeline, the original Wolf Trap Lighthouse was erected in 1821. It was then destroyed by Confederate troops in 1861, re-built in 1864, refurbished in 1870, then again destroyed, this time by ice, in 1893. Its pieces floated some distance away, and, for a time, rather than helping to guide seafarers to safety, its remains became "a dangerous obstacle to navigation," as claims Wolf Trap's National Register of Historic Places Nomination application.
This serial lighthouse purchaser did not hold onto it for long. He told the Sequim Gazette that he had to put Wolf Trap up for sale shortly after buying it, "after problems with vandalism proved to be too much to handle from Seattle, where he lived at the time." The lighthouse was then bought by a South Carolina veterinarian, sight unseen, for either $115,000 or $119,000, depending on the source.
This posting is for the Wolf Trap Lighthouse and a deep water shore lot in Horne Harbor, VA. I currently do not have the time or money to finish this project. If interested please call Jim at 843-709-7500. No emails without phone numbers. Thx. Trades for waterfront in the Charleston area may be considered.
You could get lost in the photo accompanying the Craigslist ad, which shows the red, two-story lighthouse, with its tough construction and its still-working light, jutting up out of the endless blue water, almost like a castle coming out of the clouds.
Some miles into the Chesapeake Bay, this 100-odd-year-old home -- at once industrial looking and imperious and isolated, and yet still cozy and historic and romantic -- looks like just the sort of place that would be ideal to sail off to when life on land gets too crowded.
It looks, truly, like it would make a wonderful inn.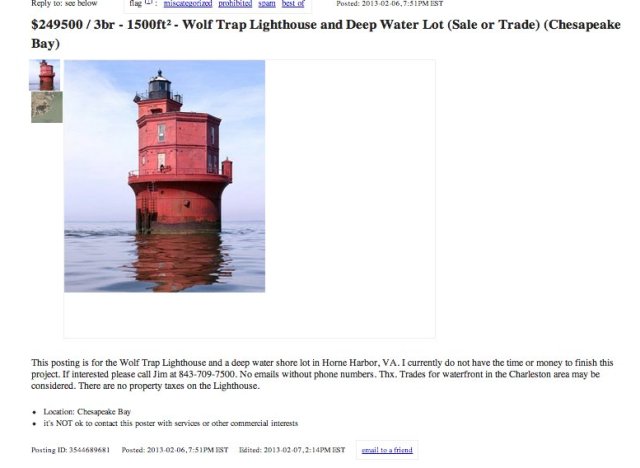 BEFORE YOU GO
PHOTO GALLERY
Live Out a Fairy Tale in Dreamy Tower Suites