The 55th Annual Grammy Awards took place on Sunday and the Robert Glasper Experiment nabbed the award for Best R&B Album. The albums up for the award were Robert Glasper Experiment's "Black Radio," Anthony Hamilton's "Back to Love," R. Kelly's "Write Me Back," Tamia's "Beautiful Surprise," and Tyrese's "Open Invitation."
The Robert Glasper Experiment was also up for Best R&B Performance for "Gonna Be Alright (F.T.B.)," while Anthony Hamilton was up for Best R&B Song for "Pray for Me," and Tamia was up for Best R&B Song for "Beautiful Surprise."
The Grammys have introduced a new category this year, Best Urban Contemporary Album. The inaugural nominees were Chris Brown's "Fortune," Miguel's "Kaleidoscope Dream," and Frank Ocean's "Channel Orange." Ocean took home the award.
At last year's 54th Annual Grammy Awards, Chris Brown's "F.A.M.E." beat out El DeBarge's "Second Change," R. Kelly's "Love Letter," Ledisi's "Pieces of Me," and Kelly Price's "Kelly" to win Best R&B Album. The category was introduced at the 1995 Grammy Awards and was first awarded to Boyz II Men for the album "II."
LL Cool J hosted the 2013 Grammys at Los Angeles' Staples Center on Feb. 10.
PHOTO GALLERY
Grammy Awards 2013
02/10/2013 11:44 PM EST
Good Night, Everyone!
The 55th annual Grammy Awards have come to a close. Dan Auerbach from The Black Keys was a big winner, but Frank Ocean, fun., Mumford & Sons, Kelly Clarkson and Kanye West & Jay-Z were all honored with Grammys.
From all of us here at HuffPost Entertainment, we hope you enjoyed the show. See you again on Feb. 24 for the 85th annual Academy Awards.
Here's Lena Dunham and Taylor Swift again, just because: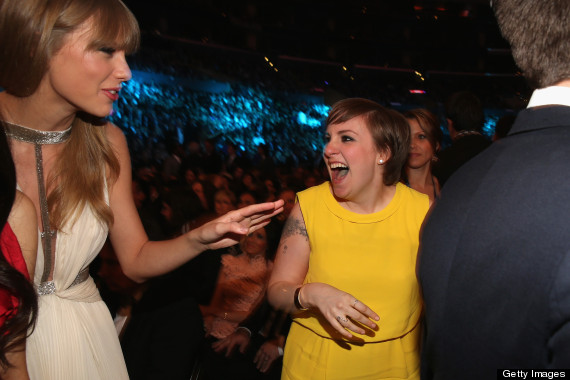 02/10/2013 11:34 PM EST
Good Notes
@ johannacox :

Not enough Beyonce and nowhere near enough Solange. #grammys
02/10/2013 11:33 PM EST
You've Got To Fight For Your Right To Delta
@ TVWithoutPity :

Wow, the closing #Grammys jam was bumrushed by sponsor shout-outs. Thought it was MCA forever, not commerce forever.
02/10/2013 11:30 PM EST
The Broadcast Is Over
LL Cool J gets cut off saying good night on the Grammys. Hashtag that, LL.
02/10/2013 11:28 PM EST
"MCA Forever!"
This amalgam of rockers and hip-hop stars perform "No Sleep Till Brooklyn" to honor the late MCA. CBS, however, cuts them off with an rundown of the night's sponsors. Classy.
02/10/2013 11:26 PM EST
Ladies Love Cool James
02/10/2013 11:25 PM EST
LL Cool J, Chuck D, Tom Morello, Travis Barker & More
Closing the Grammys in style.
02/10/2013 11:24 PM EST
Tonight, They Are Young
More on fun. Fun!
02/10/2013 11:22 PM EST
"Still To Come, I Take The Stage"
LL Cool J now making Grammys threats.
BEFORE YOU GO