The Lumineers were up for their first Grammy awards at Sunday's 55th Annual Grammys.
The band was nominated for Best New Artist and Best Americana Album but ended the night empty-handed. For Best New Artist, The Lumineers were up against Alabama Shakes, Frank Ocean, fun., and Hunter Hayes. For Best Americana Album, "The Lumineers" was competing with The Avett Brothers' "The Carpenter," Bonnie Raitt's "Slipstream," John Fullbright's "From the Ground Up," and Mumford & Sons' "Babel."
Last week, the band's lead singer Wesley Schultz told Patch he didn't expect to win.
"If we win a Grammy, we'll have the worst speech in Grammy history," he said. "We're not really expecting to win. We are pretty honored to be nominated, that's pretty shocking in itself."
"The Lumineers" is the band's debut studio album. Released in April, the album saw strong commercial performance and positive critical reception.
The Lumineers also performed at the awards show, playing their hit single, "Ho Hey."
The Lumineers' drummer Jeremiah Fraites spoke with HuffPost about the band's Grammy nominations in December. "For me, if we win, I don't want to do anything different," he said. "And if we lose, I don't want to feel sad about it. I want to try to maintain a personal kind of barometer or compass and know our own value. If we win, that would be amazing, but if we don't win, I don't want to feel like, this was all for nothing. It's been a great year, we still have a great album and we still have a lot more music to write."
The 55th Annual Grammy Awards took place on Feb. 10. LL Cool J hosted the show at Los Angeles' Staples Center.
PHOTO GALLERY
Grammy Awards 2013
02/10/2013 11:44 PM EST
Good Night, Everyone!
The 55th annual Grammy Awards have come to a close. Dan Auerbach from The Black Keys was a big winner, but Frank Ocean, fun., Mumford & Sons, Kelly Clarkson and Kanye West & Jay-Z were all honored with Grammys.
From all of us here at HuffPost Entertainment, we hope you enjoyed the show. See you again on Feb. 24 for the 85th annual Academy Awards.
Here's Lena Dunham and Taylor Swift again, just because: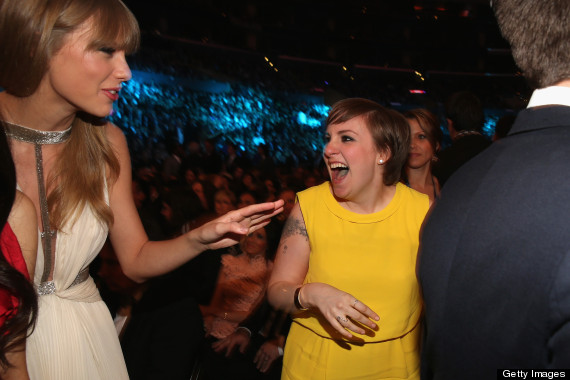 02/10/2013 11:34 PM EST
Good Notes
@ johannacox :

Not enough Beyonce and nowhere near enough Solange. #grammys
02/10/2013 11:33 PM EST
You've Got To Fight For Your Right To Delta
@ TVWithoutPity :

Wow, the closing #Grammys jam was bumrushed by sponsor shout-outs. Thought it was MCA forever, not commerce forever.
02/10/2013 11:30 PM EST
The Broadcast Is Over
LL Cool J gets cut off saying good night on the Grammys. Hashtag that, LL.
02/10/2013 11:28 PM EST
"MCA Forever!"
This amalgam of rockers and hip-hop stars perform "No Sleep Till Brooklyn" to honor the late MCA. CBS, however, cuts them off with an rundown of the night's sponsors. Classy.
02/10/2013 11:26 PM EST
Ladies Love Cool James
02/10/2013 11:25 PM EST
LL Cool J, Chuck D, Tom Morello, Travis Barker & More
Closing the Grammys in style.
02/10/2013 11:24 PM EST
Tonight, They Are Young
More on fun. Fun!
02/10/2013 11:22 PM EST
"Still To Come, I Take The Stage"
LL Cool J now making Grammys threats.
BEFORE YOU GO