Gator-aid!
An 8-foot-long alligator lurking through a Florida storm drain got stuck Friday and had to be rescued.
The reptile's head was wedged in a Largo, Fla. roadside drain when county deputies and officials from the Florida Fish and Wildlife Conservation Commission arrived, according to a news release from the Pinellas County Sheriff's Office.
A passerby noticed the beast and called authorities. Bystanders and officers helped pull the creature from the drain -- which was only a few blocks from a local elementary school.
The gator was transported to an alligator farm near Dover, Fla. after wildlife officials made sure it wasn't injured.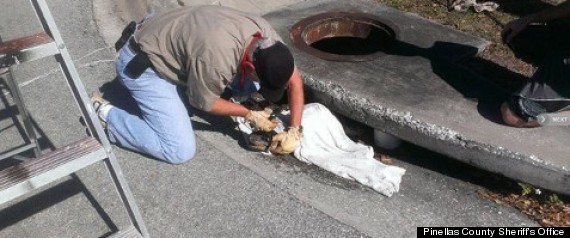 In the past year, alligators have turned up across the country in places stranger than a storm drain.
Most recently, authorities in Northern California said they found an alligator, "Mr. Teeth," guarding 34 pounds of marijuana. Last April, a 6-foot gator allegedly showed up at the front door of a Super 8 Motel in Louisiana and bit a guest.
But not everyone is terrified of the snappers -- In September, baby alligator pool parties became a birthday trend in Florida.
PHOTO GALLERY
Awesome Gators & Crocs
BEFORE YOU GO
PHOTO GALLERY
Animals In The News