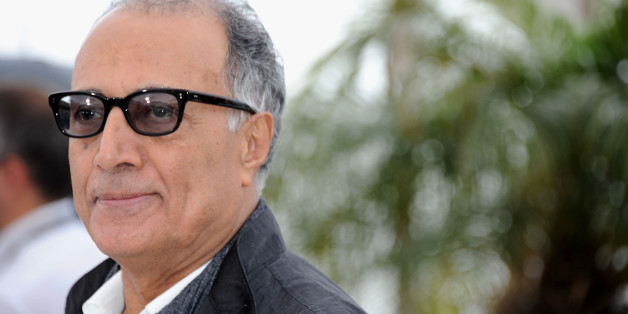 Iranian filmmaker Abbas Kiarostami's latest work, "Like Someone in Love," takes place in and around Tokyo -- a far cry from the director's hometown of Tehran. The story follows the unconventional love triangle of Akiko, a young student and escort who, estranged from her family and reluctantly engaged to a jealous suitor, develops a connection with a much older, widowed professor named Takashi. Hardly a romance though the title might suggest, the film is a slow-moving study of the nebulous relationships endemic to Kiarostami's imagination. Distanced family members, dysfunctional lovers and role-playing strangers collide in cinematic moments that, pieced together, represent an artfully shot 24-hour period of Akiko's life.
"Like Someone in Love" is similar to "Certified Copy," Kiarostami's French-language drama set in the Italian country side. Both films showcase the writer and director's essential elements -- stark minimalism, melodic dialogue, and sweeping camera shots. The plot of the new film is slow-paced and familiar; as the director told audiences at a New York Film Festival screening in 2012, he doesn't create his stories' characters, he merely collects them. "Like Someone in Love" opens in New York City and Los Angeles this week, and was born of nearly 20 years of experience and rewriting. We had the chance to chat with Kiarostami about his project's transformation, adapting to Japanese culture and remaining faithful to life in art.
"Like Someone In Love"
What were some of the obstacles you encountered to bringing a foreign film to Japan?
There were small details, not anything big or noticeable, but small details that weren't as I figured before getting to Japan and I had to admit once there. For instance, one funny thing about the sound was that in Iran, I wrote that [in one scene] we could hear an alarm -- a car alarm -- on the street. But when the Japanse staff heard that sound during production, they asked, "What is that sound?" And we said it was a car alarm. And they said, "What is a car alarm?" It turned out that they do not have this, because cars do not get stolen in Japan.
Another was that at the moment when [the main character] Akiko is hurt and the old man starts healing the wound. I wanted him to take her face in his hand or touch her hair. But the actor told me, "I would never do that. As an older man to touch a younger girl's face, I would never do that." We repeated in three takes, and he just refused. And I had to admit that a Japanese character probably wouldn't do it. There were small things I had to accept in order to be loyal to Japanse habits.
So the script changed over the years?
Yes. There was actually a crucial detail that posponed the film for 17 years, because I meant to shoot it long ago and I had to give it up because of a Japanse specificity. There is always one scene that becomes the pillar of the film, and for me that scene was Akiko listening to her grandmother's messages while seeing the woman from a distance. I wanted it to be one single shot on a circular square, on a roundabout, and I wanted the grandmother to be in the middle. But at that time I was told there were no circular squares in Japan, no roundabouts. So it made it impossible, and I said ok, I won't do it. And finally I decided to have it on a normal square in different shots. So the film was about to be given up because of that.
The film's main characters have both suffered loss -- Akiko distanced from her family out of shame and Takashi losing his wife. So when they meet they form a close relationship quickly, becoming each other's substitute relatives in a way. Is this how you would respond to loss?
Yes, I guess that's how I have experienced loss. Maybe I haven't had this reaction of substitution, that's the only difference, but I can understand perfectly that you want to avoid the void, so you try and find other people to replace those people that you have lost. This is what makes sense.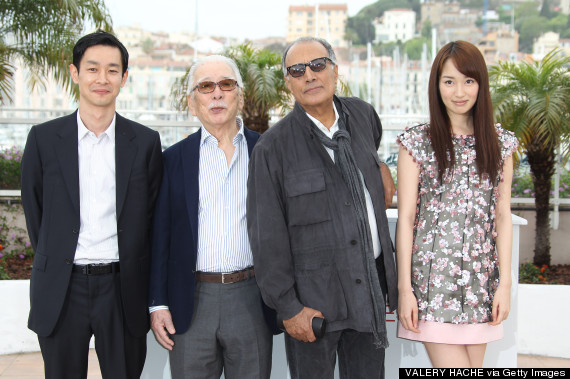 (From left) Japanese actor Tadashi Okuno, Japanese actor Ryo Kase, Iranian director Abbas Kiarostami and Japanese actor Ryo Kase, Japanese actor Tadashi Okuno, Iranian director Abbas Kiarostami and Japanese actress Rin Takanashi. (VALERY HACHE/AFP/GettyImages)
Many of your films have been praised for their focus on movement. You have these sequences of dynamism, whether someone is hustling around a flat or driving through a busy city street, followed by shots that appear like still photographs. Is this a deliberate stylistic measure?
Yes, I think that life is a succession of movement and stillness. And so if you want your film to be faithful to life, you must have those alternatives.
Can you tell us a little about your art outside of filmmaking?
When I entered this room and I saw the covers of The New Yorker on the wall it reminded [me] that I was asked very recently to design for [Francis Ford Coppola's] magazine called "All-Story." They ask different artists to do their covers, so for one issue I did a design. Other than that, there is not one day or one week without me working on [graphic works] or photography. I do it almost everyday. So I would say film is my profession, but my real hobby, that I dedicate most of my time, is photography and visual arts in general.
You've been through quite a few interviews now. Is there any question you've always wanted to be asked, but no one has yet?
No, but there are definitely questions I did not want to be asked and I was! This time in New York, I haven't been asked those. The questions that I don't wish to be asked are those that make me feel as if I were a politician or a spokesman, not a filmmaker. That's what really annoys me.
PHOTO GALLERY
Abbas Kiarostami
BEFORE YOU GO