Megan Hobson, a teenaged victim of a Hialeah drive-by shooting, will be present Tuesday evening when President Obama delivers his State of the Union address.
The 17-year-old was invited to D.C. as the guest of Democratic National Committee chairperson and U.S. Rep. Debbie Wasserman Schultz (D-Weston).
Hobson was injured last May when a bullet pierced a car in which she was sitting, striking her in the pelvis, bladder, and intestines, according to the Sun Sentinel.
CBS Miami reports that after she realized she was shot, Hobson moved a two-year-old child next to her down to the car floorboard, and is credited with saving the baby's life.
"I had to take 35 units of blood and platelets because I basically was bleeding out," Hobson told Local 10.
After several surgeries and rehabilitation, Hobson is walking again and months away from graduating with honors from American High School.
"You thought you were big and bad because you had a gun," Hobson addressed the shooter in an interview with Local 10. "But the bullet that you shot me with, I was bigger than the bullet because I beat your bullet."
(Story continues below.)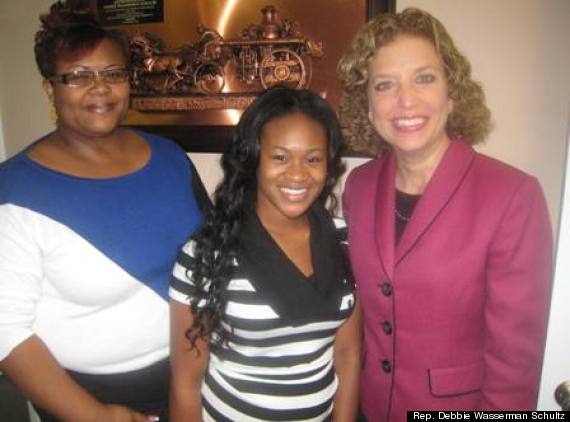 Megan Hobson with mother, Annmarie Hobson, and Rep. Debbie Wasserman Schultz
The teen is expected to be one of many gun violence survivors invited to attend the speech by Democratic congresspeople lobbying for gun control changes in the wake of the Sandy Hook Elementary shooting in January.
Nearby North Miami resident Desiline Victor, 102, will also attend the State of the Union at the invitation of first lady Michelle Obama.
Victor, a naturalized Haitian-American farmworker, waited three hours to vote for President Obama at her precinct in November. She is thought to be the oldest person ever to be invited to attend the event.
BEFORE YOU GO