Christopher Dorner's mother was reportedly one of the many viewers glued to a screen Tuesday afternoon as the drama in Big Bear, Calif. unfolded live on national television broadcasts.
Nancy Dorner was thought to be spotted at La Capilla Mexican Restaurant in La Palma, Calif. at around 3:30 p.m. drinking white wine and eating chips and salsa as helicopter cameras captured a standoff between police and someone authorities believed to be her son, Christopher Dorner.
CBS2/KCAL9's Michele Gile told her station that she spoke to someone matching Nancy Dorner's description, asking her and a female friend if they knew the fugitive. They said no, and Gile informed them that Christopher Dorner's mother lived somewhere nearby.
Joseph Munoz, the bartender, later told CBS2/KCAL9 that when Gile left, the woman believed to be Nancy Dorner asked him a lot of nervous questions.
"She started asking me questions, like if I knew (Dorner)…what I know about him…stuff like that. She was watching the TV, but she wasn't really concerned about it," said Munoz. "She was busy talking to her friend, like it was just an everyday thing."
Gile later went to Nancy Dorner's home and saw the woman she spoke to at the bar pull into the driveway and enter the house. Neighbors identified the woman as Nancy Dorner, reports CBS2/KCAL9.
Nancy Dorner owns her home in La Palma and lives there with her daughter, according to property records. She also owns a vacant lot in Arrowbear, part of San Bernardino County. She and her daughter have been cooperating with authorities in the investigation against Christopher Dorner, reports the Los Angeles Daily News.
Police confirmed Wednesday that they found charred human remains inside the burned out cabin in Big Bear, but authorities have not positively identified the body, reports AP. Meanwhile, the Los Angeles Police Department lifted the tactical alert and resumed normal patrol operations. Only about one dozen officers are still standing watch over the officers and families directly named in Christopher Dorner's alleged manifesto, down from 50.
Photos of the hunt for Christopher Dorner:
PHOTO GALLERY
Christopher Dorner Manhunt
WATCH:
Live updates on the hunt for Christopher Dorner:
02/13/2013 4:09 AM EST
Timeline Of Dorner Manhunt
The Associated Press has created a timeline of key events in the ongoing manhunt for Christopher Dorner, the former Los Angeles police officer suspected of killing at least three people. Note: All times approximate:
Sunday, Feb. 3: An assistant women's college basketball coach and her fiance are found shot to death in their car in Irvine, Calif. Police learn later the woman was the daughter of a retired Los Angeles police captain who represented Dorner in disciplinary hearings that resulted in his dismissal from the force.

Monday, Feb. 4: Some of Dorner's belongings, including police equipment, are found in a trash bin in suburban San Diego, linking him to Irvine killings.

Wednesday, Feb. 6: Police announce finding Dorner's manifesto online.

10:30 p.m., Wednesday, Feb. 6: A man matching Dorner's description makes a failed attempt to steal a boat from a San Diego marina. An 81-year-old man on the vessel is tied up but otherwise unharmed.

1:30 a.m., Thursday, Feb. 7: LAPD officers, protecting a person named in the manifesto, chase a vehicle they believe is Dorner's. One officer is grazed in the forehead by a bullet during a shootout, and the gunman flees.

A short time later, a shooter believed to be Dorner ambushes two Riverside police officers during a routine patrol. One officer is killed, and the other critically injured.

2:20 a.m., Thursday, Feb. 7: A shuttle bus driver turns in a wallet with an LAPD badge and a picture ID of Dorner to San Diego police. The wallet was found fewer than five miles from the boat, near San Diego International Airport.

5 a.m., Thursday, Feb. 7: LAPD officers guarding a manifesto target in the Los Angeles suburb of Torrance open fire on a truck they mistakenly believe to be Dorner's. A mother and daughter delivering the newspaper are injured.

A short time later, Torrance police are involved in a second shooting involving a different truck they also mistake for Dorner's. Nobody is hurt.

8:35 a.m., Thursday, Feb. 7: Police find a burned-out pickup truck near the Big Bear ski area in the San Bernardino Mountains. Six hours later, authorities identify it as Dorner's.

9:40 a.m., Thursday, Feb. 7: Naval Base Point Loma in San Diego is locked down after a Navy worker reports seeing someone who resembles Dorner. Military officials later said Dorner had indeed checked into a hotel on base earlier in the week – on Tuesday – but had left on Wednesday.

4 p.m., Thursday, Feb. 7: Authorities search a Las Vegas-area home belonging to Dorner and leave with several boxes of items. They say no weapons were found but decline to disclose what was discovered.

Friday, Feb. 8: Dozens of searchers hunt for Dorner in the freezing, snowy San Bernardino Mountains after losing his footprints near the site where the truck was found. Authorities search Dorner's mother's house in La Palma and collect 10 bags of evidence and also take five electronic items for examination. Police also search a storage locker in Buena Park.

Saturday, Feb. 9: Helicopters equipped with heat-seeking technology resume search for Dorner in the mountains near Big Bear. Authorities reveal that weapons and camping gear were found in Dorner's burned truck.

Sunday, Feb. 10: Authorities announce $1 million reward for information leading to Dorner's arrest.

Monday, Feb. 11: Riverside County prosecutors charge Dorner with murdering a police officer and the attempted murder of three other officers in a potential death penalty case. Authorities receive more than 700 tips since the reward was announced.

12:20 p.m., Tuesday, Feb. 12: Police are summoned after a man resembling Dorner steals a purple Nissan in the San Bernardino Mountains. The vehicle is quickly spotted by California Department of Fish and Wildlife wardens on Highway 38. After briefly losing the suspect, the wardens see a white pickup truck driving toward them erratically and at a high rate of speed. Wardens say Dorner rolled down his window and opened fire as he drove past them in the opposite directions.

One of the wardens was able to get out and fire at the driver, who escaped on foot after crashing his truck.

12:40 p.m., Tuesday, Feb. 12: State Fish and Wildlife wardens are involved in a shootout with the suspect. Two San Bernardino County sheriff's deputies are wounded in a second exchange of gunfire and are transported to Loma Linda Medical Center.

4:30 p.m., Tuesday, Feb. 12: Police surround the cabin where the suspect is holed up and gunfire erupts before a blaze engulfs the structure and law enforcement officers wait for the fire to burn out.

4:50 p.m., Tuesday, Feb. 12: A San Bernardino County sheriff's spokeswoman confirms one of the two wounded deputies has died, and the other is in surgery and expected to survive.

6:30 p.m., Tuesday, Feb. 12: A law enforcement officials tells the AP a charred body has been found in the rubble of the burned cabin. They don't confirm the identity, although authorities earlier said they believed the man in the cabin was Dorner.
02/13/2013 3:35 AM EST
Police: Charred Remains Found In Cabin
@ AP :

BREAKING: Sheriff's spokeswoman says charred human remains found in rubble of burned cabin in California http://t.co/X1ezLJEq
02/13/2013 3:22 AM EST
Wounded Deputy Will Need Several Surgeries
A San Bernardino County sheriff's deputy who was shot during a mountainside firefight with a gunman suspected to be Christopher Dorner is expected to survive. However, according to The Los Angeles Times blog L.A. Now, the deputy will need several surgeries.
Another deputy involved in the firefight was mortally wounded.
Click here for more.
02/12/2013 11:56 PM EST
Media Turmoil
Multiple news outlets found themselves with apparent egg on their face after their reports that alleged California killer Christopher Dorner was dead were refuted by the Los Angeles Police Department.

As President Obama was giving his State of the Union address, CBS News tweeted that a body believed to be that of Dorner had been found in a burned-out cabin. CNN soon followed. So did ABC and NBC News. So did local Los Angeles stations. All cited either the LAPD or, in NBC's case, the LA mayor's office.
CLICK HERE to read the full story.
02/12/2013 11:48 PM EST
Conflicting Reports In Dorner Hunt
Via the Los Angeles Times website front page: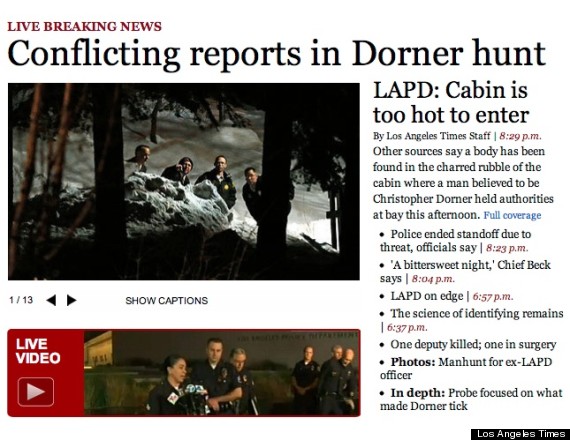 02/12/2013 11:39 PM EST
"They Have Not Confirmed Anything"
Cindy Bachman, San Bernardino County Sheriff's Department spokesperson, tells reporters that "they have not confirmed anything."
"I can't tell you at this time when they might be able to enter the cabin," she added.
02/12/2013 11:32 PM EST
Too Hot To Search
@ cnnbrk :

LAPD: No body found yet in cabin that burned in #Dorner hunt, contradicting earlier reports. Cabin too hot to search. http://t.co/5vR1T3Mg
02/12/2013 11:29 PM EST
Conflicting Reports
@ mathewi :

CBS, ABC, NBC, CNN and the Associated Press have all reported Dorner's body found in cabin -- LAPD says no body has been found
02/12/2013 11:23 PM EST
Breaking Updates
@ ABC7 :

LAPD Commander A. Smith says no body has been found or identified as #Dorner. Earlier reports are false & cabin hasn't been entered.
02/12/2013 11:22 PM EST
Authorities: No Positive Identification Yet
Los Angeles Police Department told reporters that no body has been identified in the cabin in which Chris Dorner was believed to have been hiding, following a shootout and fire.
"No body has been located yet," Commander Andrew Smith said, telling reporters that the building was still too hot for investigators to enter.
"That burned cabin has not even been entered by investigators yet," Smith said. "We are still on a holding pattern to search that."
BEFORE YOU GO