According to entrepreneur Raj Singh, smartphones have so far failed to live up to their name.
As Singh sees it, that Android or iPhone in your pocket is more accurately a "semi-dumb" phone with a suite of apps -- for emailing, note-taking, tracking contacts and scheduling events -- that are at best digitized versions of the paper originals.
But he has a solution: build a calendar with a brain, then teach it to think for itself.
Singh, co-founder and CEO of Tempo AI, is adding to a growing number of artificially intelligent assistants with the launch of a new app, the Tempo Smart Calendar, that draws on research from the same project that provided the building blocks for Apple's Siri.
While existing calendars know as much as users tell them and little more, Tempo Smart Calendar leverages artificial intelligence and personal data to not only track a person's commitments, but understand the intent of her scheduled plans, predict what she needs to know ahead of each event and call up all the information she'll require for a meeting. That could include everything from relevant documents and important emails, to a map of the destination and the cellphone number of the person someone is going to meet.
"When we were thinking about what the next generation of assistants would be, we said, 'Let's take Siri and add context to Siri,'" explained Singh.
But he was also conscious of creating an assistant that wouldn't overwhelm users with a barrage of suggestions and extraneous tips (Think Microsoft's over-eager assistant Clippy). "The calendar is a way to add an assistant-like functionality to the user experience in a way that doesn't feel noisy," said Singh.
Like a human assistant, the Tempo Smart Calendar app, released Wednesday for iOS devices, is meant to learn a person's routine and then anticipate what the user will look for before the user specifies it -- even with very little information to go by.
I tested the app's mettle by creating a vaguely-named calendar entry identified only as "Interview Korean radio." When I opened the event in the Tempo Smart Calendar app, it pulled up four email threads it deemed relevant -- including the key email in which in which I'd set up the call -- along with two documents from my email inbox it thought would be helpful. To its credit, they were precisely the two documents I would have wanted.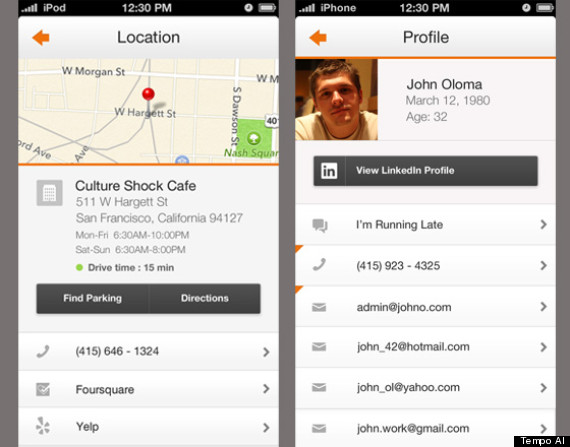 In another test, I created the appointment "Lunch Alissa Pain Quotidian." The app not only summoned up emails, but offered up a map of the restaurant's location (together with its phone number, website, Foursquare rating, Yelp review and nearby parking lots). And, by searching through the content of those emails, Tempo Smart Calendar identified the contact information for the people it reasoned had been invited to the event (the correct Alissa was among the three it suggested). The app also offered a way I could, in just a click or two, message Alissa to tell her I'd be running a few minutes late, without digging around for her cellphone number or email address on my own.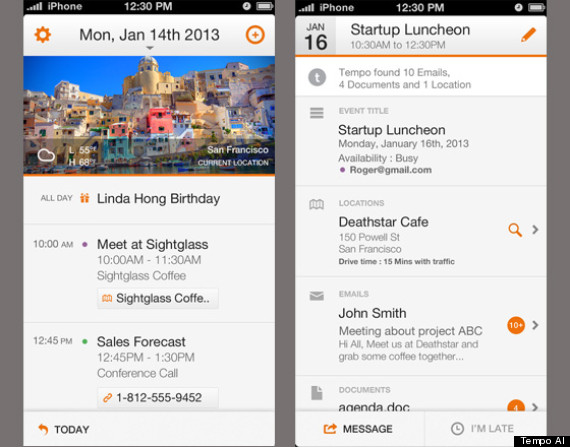 Not all entries get the same special treatment, however. A reminder to "go to the gym" won't look all that different on Tempo's app, and Singh notes that the company is trying to determine what information would be most helpful for those types of events. Would it be a map? A motivational quote? A picture?
The startup has gathered data on the most common types of calendar entries -- team meetings, working lunches, business dinners and other corporate America pastimes -- and has prioritized enhancing those events. If you have a conference call on your calendar, the Tempo Smart Calendar app will auto-dial into the call. In addition, a calendar entry with a flight number will automatically call up flight status information, and a birthday reminder gives the option to post a birthday message to a friend's Facebook wall.
Like Siri, Tempo was spun out from SRI International, a non-profit research lab that oversees technology research funded by companies, government organizations and institutions. And like Siri, Tempo has leveraged technology from the Defense Department-funded CALO project, a five–year effort that united hundreds of artificial intelligence leaders under the mission to build a "Cognitive Assistant that Learns and Organizes." The Smart Calendar app has integrated several of CALO's most noteworthy features, including Emma (a "personalized calendar management assistant") and PrepPak (AI technology that could summon up important messages and documents).
"There's a wave of assistants coming," Singh said. "It's a new layer that's coming to all applications."
BEFORE YOU GO