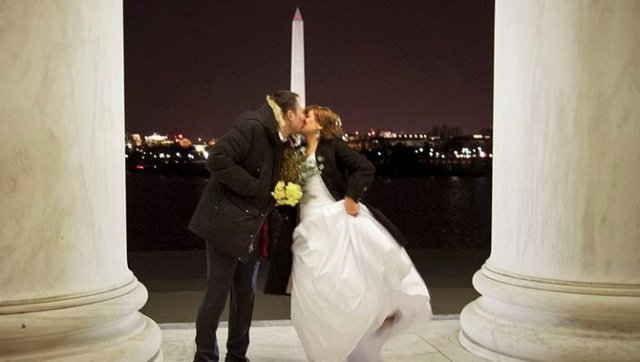 The most unexpected thing about Heather M. And Flavien B.'s recent surprise Jefferson Memorial wedding may be that they got married at all, considering that their first date did not go especially well.
"The first time we met, we had friends with us," says Heather, who is from Bangor, Pennsylvania. "He showed up late at a different place than our original meeting spot, drank my friend's beer -- took it right from her hands! -- and then left early with his friend to go to Georgetown."
Their second date, which Heather had to be talked into, went better.
"He took me to a French place, which he said they would all speak French and no one did. Then we went to the W [Hotel] to view the monuments from above, and last we went to the Jefferson Memorial," she says. "That was September 1, 2010, and we have been together since."
Story continues below...
PHOTO GALLERY
Jefferson Memorial Wedding
On the night they got engaged, a few weeks before the Feb. 1 wedding, "we repeated the first date," says Flavien, meaning the first successful date. They re-visited the French restaurant where no one speaks French, then returned to the Jefferson Memorial.
"And when at the Jefferson [Memorial], I proposed," says Flavien, who grew up outside Paris. "I don't remember why we went there the first time. But after going there the first time, it was just the perfect place to propose and get married. It's a beautiful place, the light are amazing at night. I wish I could say it's because of the link between Thomas Jefferson and France, but no."
The two agreed that they would have a private wedding -- again at the Jefferson Memorial -- followed by parties in the United States and in Europe.
"We planned for a photographer to come, so we can have pictures to show at our receptions later," says Heather.
Heather thought that they'd head right from their wedding to the airport, to take the next affordable flight out, wherever it might be going, for their honeymoon.
What the bride didn't know is that Flavien had, three weeks earlier, arranged for her parents, sister, brother-in-law, cousin, aunt, uncle and a handful of friends to witness their ceremony.
"All these family and friends who have been texting and talking to me all week, have been keeping this a secret," says Heather. "I couldn't have been more overjoyed. At that moment, I felt so lucky to have such amazing people in my life, to share the night with. And the most generous and thoughtful groom."
The ceremony -- which was on a cold, clear evening -- was followed by a party in their condo building.
"Needless to say, we didn't get that flight out of DCA" -- National Airport -- "that night," says Heather. "But we did the next morning. And we ended up in Detroit! "
"Detroit is very interesting," says Flavien. "The city is charming, but I don't know how to describe."
"I am glad we went there," says Heather. "It hasn't ever been a destination on my list, but the story of rise and fall is incredible."
Do you have a sweet love story or an unusual wedding, or just want to say hello? Email dc-tips@huffingtonpost.com.
Click through the slideshow below to see some of the best engagement rings in movie history.
PHOTO GALLERY
Best Movie Engagement Rings
BEFORE YOU GO