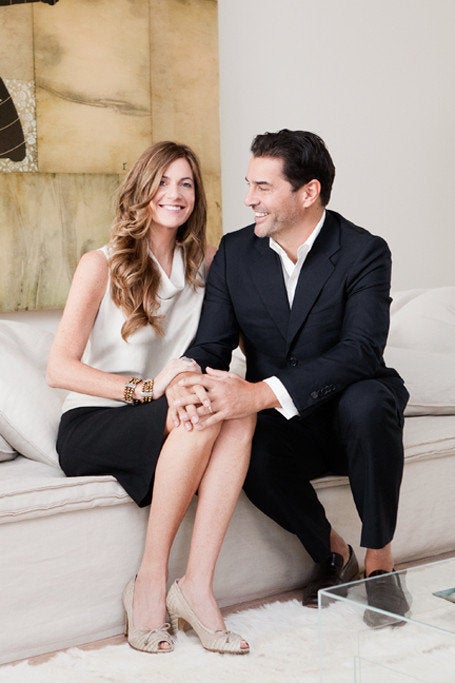 My LA is a series of Q&A profiles with our favorite Angelenos. To see others, be sure to check out My LA.
Meet Andrea and Cristina Morara -- the founders of Stellar Hitch -- LA's newest matchmaking service. Having recently moved their boutique agency from Florida to Los Angeles, the couple takes a firm stance on the importance of romance, slowing down, and reconnecting to what they call the "dolce vita of dating." Andrea (born and raised in Bologna, Italy) and Cristina (born and raised in Northern Virginia) met in Italy, of all places, while Cristina was working in casting and Andrea was an actor up for a part.
In a vicious world of online dating and constant iPhone notifications, Stellar Hitch takes a very different approach. Andrea and Cristina are not shy about discussing what the problem is with singles these days, what will get you rejected from their agency and frankly, why sleeping with someone right away is probably not the best idea.
Currently living in the Marina Del Rey, they are working on a book called "The Dolce Vita of Dating: How A Vintage Approach To Romance Will Lead You Straight To The Altar."
Just in time for Valentines Day, HuffPost LA jumped at the chance to talk to the couple about what makes them so different, why LA daters are so difficult, and of course, where the most romantic place in the city is.
What have you found are the biggest challenges for daters in Los Angeles?
Geography and time. LA is a town where people prefer to date on their side of town, which is understandable due to the heinous traffic, but it's limiting. Nobody wants to make the effort to drive across town to meet someone for dinner unless they're "worth it." What has happened to people's sense of adventure or mystery in meeting someone new?
After meeting in Milan, you opened a wine bar together in Florida. How did you find your way into the world of matchmaking? And what makes you guys the experts?
Since our wine bar was intimate and romantic, customers started confiding in us about their love lives. We started to listen to people's stories of being single and noticed that it was less about them having access to other singles (like they were saying) and more about them being unaware of their blind spots or how to lead with their best assets. Their perceptions of themselves were incongruent with what they were really putting out there. This was our "a-ha" moment. Our casting and fashion background are key to finding the best matches for our clients, but it's been through our own unique experiences as being "serial singles" for years, a background in psychology and a male-and-female perspective that has created remarkable results for our clients. It also doesn't hurt that we're happily married.
Learning how to flirt and cultivating relationships offline is something you have spent a lot of time focusing on. How would you define the art of flirting?
The art of flirting is different for men and women. For a man, it's more about doing; for a woman, it's about being. It's Courtship 101: men should lead with their masculinity, strength and sense of humor and women should show their femininity, softness and playfulness. Flirting is a beautiful dance that requires lightness, confidence and elegance. A simple smile is worth a thousand words.
In an era of online dating, texting, Facebook and Instagram, how do you think we can find a balance between vintage dating and our undeniably technological world? These days, a man already gets a point for actually picking up the phone and calling...
Unfortunately, people are hiding beyond technology and relying on it to cultivate relationships. The overuse of technology is ruining potential connections. A new relationship requires face-to-face interaction, understanding nuances and observing how a person moves in order to build a strong foundation. Depending on technology to do this creates miscommunication and doubt. The place for technology is when a relationship is already established –- a text to ask about dinner or an email to update your lover about your day is fine.
Do you believe in love at first sight?
Yes! But love at first sight (il colpo di fulmine in Italian) gets its sustenance from timing and care; it will only last if both partners are ready and willing to feed the plant of amore.
How do you think romance or our view of love has changed from our parents' generation to now?
Back then if something was broken, you fixed it. Today, you throw it away or trade it in for a better model.
How much do you think one's city affects his or her dating life? You've worked in Florida and are now in LA. Would you expect a very different landscape in other cities like San Francisco, New York, Chicago?
Typically, large metropolitan areas attract career-oriented individuals who barely pay attention to their love life until things start to feel really unbalanced and empty. But we found that this also happened in Florida. So it's the same challenges, different city.
What do you think is the most romantic place in the city?
So far our most romantic evening was at One Pico in Shutters on the Beach. The corner table by the window overlooking the ocean and the lights of the Santa Monica Pier with the gorgeous fireplace lit, a rich Super Tuscan in one hand and my delicious husband in the other … mmmm.
If you had to name just ONE, what is the biggest mistake most men make on a first date? What about women?
Most men tend to be more "interesting than interested," so their excessive talking renders them boring or seemingly uninterested in their date. Women are leading with their executive side rather than their feminine, playful side. Overall, singles need to remember that the person sitting across from them is still a stranger. So retain a little mystery has become our mantra for both sexes.
You have a small boutique agency, so I'm guessing you have to turn some clients down. What are some of the red flags that cause you to turn someone down?
When someone just wants a quick fix and lots of dates to fill their time rather than committing to the journey of finding the right person. Since we're not about finding "Ms./Mr. Right Now," we'll recommend online dating. On the rare occasion, we've had to refer a potential client to a therapist for issues that required deep care and attention.
Cheating has become epidemic in our society. Has it always been this way? Or do you think something has changed in our romantic DNA that makes it harder for people to remain faithful?
Technology has made it easier to get caught but it's still the same old thing. Couples are unable to communicate about what they need. Need more passion in your relationship? Bring it! Need her to be more appreciative and less critical? Ask for it! Need more excitement in the bedroom? Share it! People think it's easier to look outside of the relationship for what they need rather than express their needs to the one they chose to love.
What are your rules on sex? The Millionaire Matchmaker, for example, has very strict rules on this subject matter. Where do you guys stand on how fast is too fast or letting yourself be swept up in the moment?
The type of women men want to settle down with are very selective about being intimate. Give it enough time to become emotionally invested in the other person so you have no regrets. Anticipation is the ultimate foreplay.
What is your ultimate romantic music?
Clair de Lune by Debussy, Erik Satie's Gymnopedie and anything by Lucio Dalla makes our hearts sing.
You have said that what sets your company apart from so many other matchmakers is that your clients get male and female feedback. You also really emphasize the work that you do with clients before setting them up on a date. What are three concrete things you work on with clients before sending them out into the world?
Confidence, flirting and style. We always encourage our clients to lead with the best version of themselves and savor the process of getting to know someone while not being attached to the outcome. It's less about what you are doing and more about who you are being.
You come from a casting background and do a lot of image consulting with clients as part of your services. How do you help someone if you really don't agree with their style, look or fashion?
It's all about identifying someone's best assets and enhancing them. We can only give someone delicate insight and professional advice on what looks best on them, but if they cannot "own" a style, it's useless. Confidence is by far, the best accessory.
Biggest pet peeve you see in female and male clients in LA?
Most men who hire us are initially on the defense: "I don't need any dating coaching; I only need access to high quality women. I know what to do on a date." While that may be true, every single gentleman with whom we've worked has admitted that the feedback and insight we gave him dramatically changed the quality of their romantic life. Everybody has blind spots and room for improvement. Women are generally more open and receptive to understanding how they're being perceived by the opposite sex.
When we met, you spoke about how successful and driven women seem to be losing sight of feminininty and art of flirting. How do you tackle this subject matter with clients? What do you think men have given up on or lost on the flip side?
Men need to feel needed and appreciated but women are so busy showing a man how they have it all together and figured out that men question how they would fit into that type of woman's life. Meanwhile "that type of woman" is yearning for a man who understands her and will care for her. Authenticity needs to be the new currency in dating. Vulnerability is sexy when delivered in careful doses.
Cristina, your husband is a beautiful Italian man. What do you think American men could learn most from the Europeans?
Thank you! Italian men are naturally flirtatious, playful, spontaneous and passionate. It's in their DNA and is considered normal and healthy to bring sexuality to a date. How a man carries and delivers his masculinity is a form of pride. Women are made to feel sexy.
Courtship is a huge form of expression in the Italian culture. American men would immeasurably gain from more creativity in the romance department.
What has been your biggest success story so far?
A beautiful, successful, high-profile female client came to us because she was well-known in the community and would never consider online dating but wanted to put herself "out there" in an elegant way. We found her match on the first try but not without a tiny hiccup. She was unsure about moving forward with this introduction because of her pre-conceived notions about this man. Fortunately, we were able to persuade her to be open-minded and trust our choice. It was (and still is!) a match made in heaven.
Just how much will this put you back? Stellar Hitch offers hourly dating coaching sessions ($100/hour), image consulting sessions ($125/hour) and their matchmaking packages are customized and based on the client's requests, staring at $2,500.
All photos courtesy of Stellar Hitch:
PHOTO GALLERY
Stellar Hitch Matchmakers