While taxes rose for most Americans at the beginning of year, some big companies apparently paid no income taxes at all, according to a recent report.
Facebook paid no net corporate income taxes in the U.S. last year, according to a new report from Citizens for Tax Justice, a left-leaning research and advocacy group. Instead, Facebook will rake in $429 million in net tax refunds for the year, the report said, citing Facebook's recent annual financial report. The company earned $1.1 billion in U.S. corporate profits last year.
Facebook reduced its tax burden mainly by taking advantage of the tax deductibility of executive stock options, linked to its initial public offering last year, the report said. Thanks to this one tax break, Facebook will save a total of $3.2 billion in taxes, according to the report.
Facebook didn't immediately respond to an e-mailed request for comment from The Huffington Post.
If the report's allegations prove true, it would be just one of many ways Facebook is cutting its tax burden. The company also paid a foreign tax rate of just 0.3 percent in 2011, according to the Guardian.
Facebook is one of many big companies that's faced accusations of avoiding taxes. Thirty of America's most profitable companies -- including General Electric, Boeing and Wells Fargo -- paid no net income taxes between 2008 and 2010, according to a 2011 report from Citizens for Tax Justice. President Barack Obama advocated for "getting rid of tax loopholes and deductions for the well-off and well-connected" in his State of the Union address earlier this week.
After-tax corporate profits have soared since 2000, according to Commerce Department data, as corporate profits have reached record highs and corporate tax avoidance has become increasingly common. Check out this graph of after-tax corporate profits: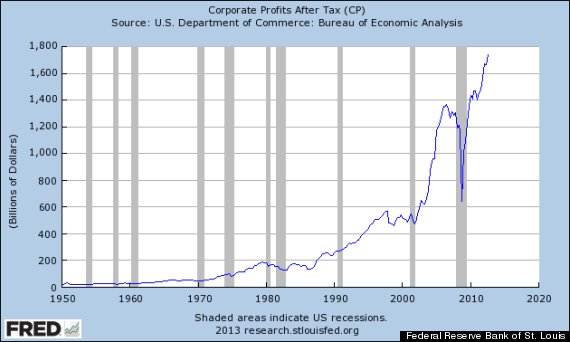 (Hat tip: ThinkProgress.)
BEFORE YOU GO
PHOTO GALLERY
The Top 10 Tax Havens