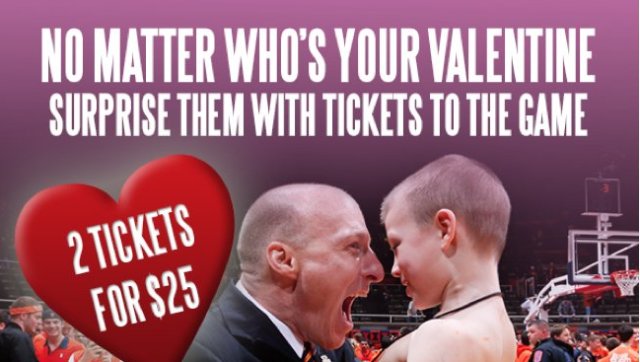 The Illinois ticket office made what some considered to be questionable photo choice for a Valentine's Day-themed flier advertising a basketball match against Penn State.
The Illinois ticket office, which distributed the ad in an email blast, probably wasn't thinking of the possible implications of putting a man hugging a young, shirtless boy on a flier for a game against Penn State.
(After all, the man in the picture is Illinois basketball coach John Groce, and the young boy happens to be his son. The two were celebrating the team's victory over top-ranked Indiana last week.)
SCROLL FOR FULL PHOTO
Nevertheless, the picture -- captioned with the headline, "No matter who's your Valentine, surprise them with tickets to the game" -- strikes an unfortunate chord following still-fresh aftermath of Penn State's massive child sex abuse scandal.
Deadspin's Jack Dickey had some choice words for the lapse in judgment, calling the decision a "mystery." Meanwhile, Yahoo's Jeff Eisenberg rationalized the whole thing was probably a "cringeworthy," but innocent mistake.
In an interview with the Daily Illini, Kent Brown, associate athletics director for media relations, said that various members of the Illinois athletic department saw the ad before it was sent out. He said no one found anything inappropriate with it.
"A week ago, that picture was lauded for a possible sports photo of the year," Brown said. "The fact that some people interpreted it as anything other than that is very unfortunate."
Brown added that the first time anyone had even mentioned anything remotely negative it was when the story first appeared in Deadspin.
The Fighting Illini are scheduled to play the Nittany Lions Thursday, Feb. 21 at 7:15 p.m. CT.
This is the first time the two basketball teams will play this regular season. Last January, Penn State narrowly beat out the Illinois squad 54-52 after scoring the winning basket with eight seconds left to play.
PHOTO: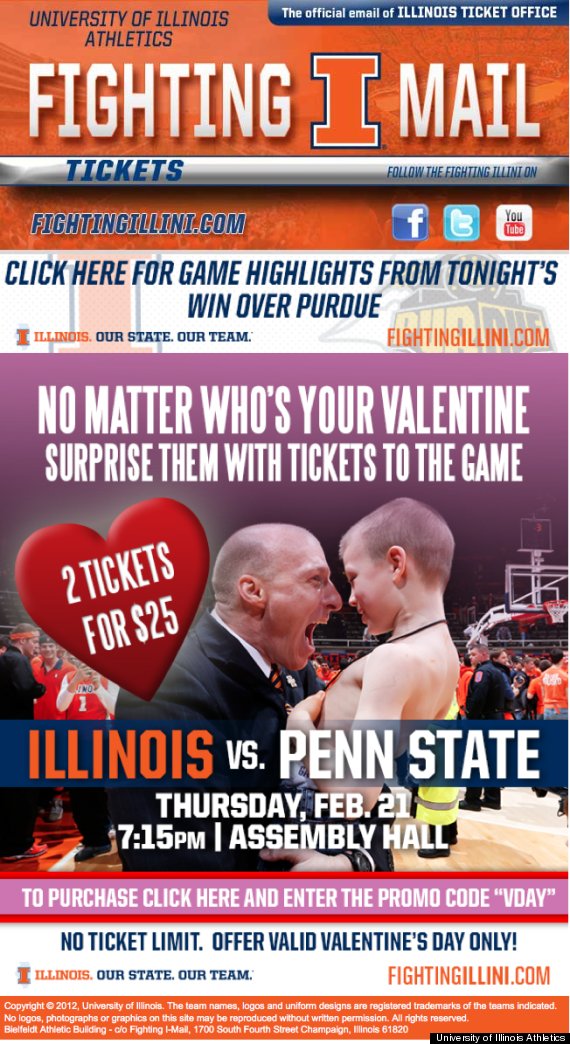 BEFORE YOU GO