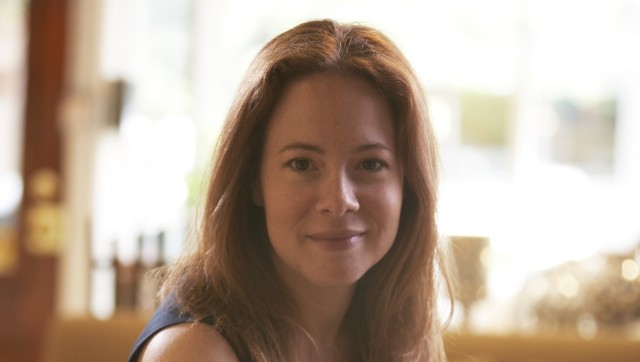 Recently we had the pleasure of catching up with Boston-based designer Jill Goldberg and getting a glimpse of her latest decorating conquests along with her adorable home furnishings boutique, Hudson, which has a new location in the historic South End. In addition to cracking us up with her hilarious antics and wit, her residential projects blew us away.
Her style is what she calls "traditional, country and vintage meets modern" and is influenced by her New England roots and years spent in New York City and California. Read our interview below with Goldberg to get to the bottom of her adventurous design decisions.
The Huffington Post: Which trends are you tired of seeing?

Jill Goldberg: The overly eclectic, trying-hard-to-look-like-you-are-not-trying, mixing of different styles has run its course, in my opinion. It's so great to see designers who actually think more strategically about the elements they are mixing together and not just hope that it will all work.

HP: What do you anticipate will be the hot trends in the coming months?
JG: Personally, as spring approaches, I believe that the country club/West Palm Beach look will become popular. The colors and patterns remind us of a happy time.
HP: Do you have any signature element you like to incorporate in every project?
JG: I do love my high gloss painted ceilings. I think such a touch helps to add a glow to any room, whether it's a dining, living or powder room. I'm also known for throwing in horizontal stripes somewhere in a room either with wallpaper or pillows tossed on chairs.
HP: Which design decisions make the biggest impact in a space?
JG: The choice of color for the walls, or the choice of fabrics both in color and textures. Also a great light fixture.
HP: What's the most common misconception about designers?
JG: Personalities. I think most people feel that designers are a bit snooty and know-it-all. All the designers I know are very passionate about what they do and that's what shines through.
HP: What's a common mistake that the average homeowner makes in their home?
JG: Rushing. People want their home to feel finished immediately, and that's when mistakes happen. Take your time to make sure that you love all the elements - the paint color, the rug, the sofa. You can throw caution to
the wind when purchasing accessories because if you make a mistake it's so much easier (and less expensive) to make a change.
HP: What's the one furniture item that no one should have in their home?
JG: A reclining lounge chair.
HP: What's the one furniture item/accessory/etc., that everyone should have in their home?
JG: Toss pillows. They finish off any space. I also think no home is complete without a touch of metal finish somewhere. For instance, a brass lamp or sconce, a silver bowl on a side table or a group of silver photo frames.
HP: What house inspired you to be a designer?
JG: My mother Barbara had a cookie business when I was around 8 years old. Her business partner Pat had the most incredible house in my hometown Of Wellesley, Massachusetts. Pat's house was definitely my first inspiration! She had the most incredible painting in her kitchen and it took up the whole wall, top to bottom and side to side. The painting was of field workers in their crisp linen shirts and pants, holding watermelons. It was fantastic! Her home was a great mix of modern and old world European. And the most intriguing group of American folk art accessories.
HP: What's your own home like? (And if you live with someone else, how do they feel about it?)
JG: My home with my husband and young daughter is a work in progress. The old saying of the cobbler with no shoes applies to me at the moment. We live in a rented condo and hope to buy a house soon. So we do a bit of painting and wallpaper and other cosmetic changes but I just can't jump in and change the lighting, tiles or re-do the kitchen as I'd like to because I'd rather do those in a house where we are going to be for a long time. Thank goodness I get to exercise all of those decorating desires with my clients.

HP: Are your friends or family scared to have you over to their homes?
JG: Yes, how did you know? And I'm not sure why? I would never comment or judge anyone's home decor unless they asked me to.
HP: What's the greatest design lesson your mentor ever taught you?
JG: Get payment in full from the client before ordering anything! But seriously I'm not sure if there is one 'lesson' I was taught. As I work, lessons are learned. Mixing the right amount of elements together, the wrong fabric with the right chair. This business and the rules of design are always changing.
HP: Why should people care about design?

HP: The surroundings in which we work and live affect our lives. Your surroundings can make you happy, warm, content, feel secure. It can inspire you after a long day at work, it can bring you back to a time in your childhood when there were no worries. I'm a homebody, and I think the space you surround yourself in can basically bring you up or help to calm you down.
Click through the slideshow below to peek into Goldberg's shop and her latest projects.
PHOTO GALLERY
Jill Goldberg
Have something to say? Check out HuffPost Home on Twitter, Facebook, Pinterest, Tumblr and Instagram.
**
Do you have a home story idea or tip? Email us at homesubmissions@huffingtonpost.com. (PR pitches sent to this address will be ignored.)