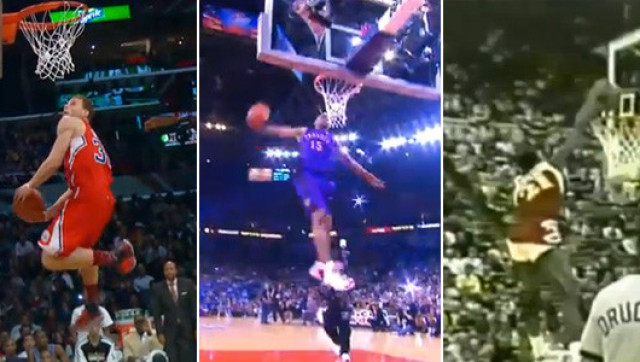 If the dunk is a "tool for intimidation" as Dominique Wilkins famously claimed than perhaps no variety of slam can blow away an opponent's confidence quite like the windmill.
Although he may not have invented windmill dunk, Wilkins' ferocious renditions of this dunk are the most iconic. At 6' 7" and possessed with a rare combination of raw power and balletic grace, Wilkins' 1980s efforts -- and battles with Michael Jordan -- in the dunk contest helped lift the event to prominence.
Up against Jordan in 1988, Wilkins threw down two memorable windmill dunks. His one-handed windmill scored a 50, while his two-handed windmill received a 45. Jordan would go on to win that contest in front of his home crowd in Chicago.
"I should have got a perfect score on the whole contest," Wilkins told John Schuhmann of NBA.com in a 2008 interview. "But, the most satisfying thing for me was that we had two of the greatest dunkers in history going head to head, and we enjoyed it. We didn't care who won or lost. We entertained the fans."
More than two decades later, whispers that Wilkins got robbed persist.
From Jordan and Nique to Jason Richardson and Josh Smith (who paid tribute to Wilkins by wearing his jersey in the 2005 contest), here are some of the most memorable windmill variations ever to rattle the rim in the NBA's Slam Dunk Contest.
PHOTO GALLERY
NBA Dunk Contest Windmill Jams