HTC has unveiled its newest hero smartphone, the HTC One, at an event in New York City. The company has drastically redesigned its Sense interface and has added an improved "UltraPixel" camera to its latest device in its latest attempt to take on Apple and Samsung and reassert itself as a major player in the global smartphone market.
Though the HTC One retains the name of the company's One series from 2012, much has changed from those disparate smartphones. For starters, it appears that HTC will be attacking the market with just a single model, and a single name, unifying its brand rather than releasing several different phones across different carriers.
Though this gives consumers fewer choices, HTC is betting that it has made a device that will please everyone.
"One," then, is a fairly poetic name for HTC's singular smartphone, a 4.7-inch, Android Jelly Bean smartphone that drastically reimagines the smartphone homescreen. Rather than the rows of icons familiar from iOS and most Android phones, HTC has invented a new interface called "BlinkFeed," a pinboard-like design for its homescreen that will deliver a newsfeed from over 1400 news partners, plus Twitter and Facebook, in a constantly-updating feed.
"BlinkFeed" (which you can see in the photos below) greets the One user upon startup; swiping to the side, or pressing the Settings button on the front center of the phone, takes the user into the more familiar view of icons and apps. Imagine if a news aggregation service like Zite or Flipboard were your homescreen, and you get an idea of what HTC is going for with BlinkFeed.
The phone's owner can choose which news services and social networks he or she wishes to include in the feed, selecting by either publication title or area of interest.
HTC's previous campaign attempted to define itself as the leader in audio (with its partnership with Beats) and photography, and those two aspects are also front and center on the HTC One. The One ships with what HTC calls an "UltraPixel camera," which HTC claims captures 300 percent more light than a typical megapixel camera on a smartphone, for better low-light and action photography. There is also an intriguing new photography feature called Zoe, which automatically captures a few seconds of video before your photograph, similar to the app Glmps. Zoe then creates an automatic video montage of your day, stitching together videos and photos from different events, with filters and a musical soundtrack.
The photo gallery has also been redesigned and thought out anew, with a constantly moving, filtering view of your cameras and videos appearing when you open your photo view.
Another new feature: BoomSound, with two stereo speakers on the front face of the device, which deliver "sound you will not believe comes from a phone," per an HTC exec. BoomSound also comes with a new visualizer for your music, which features a lyric display that scrolls along with the song as it plays.
Finally, the HTC One could be your new remote control, thanks to a new feature set wrapped under the umbrella label of Sense TV. The One includes infrared technology to sync with your television and act as your remote -- to change the channel, power on and off your television and adjust the volume. Within the Sense TV app, too, you can load in your cable provider to view your local listings and; tapping on a television title will change the channel on your television set to your selected program.
Spec-wise, the HTC One features a 4.7-inch 1080p display in an aluminum body; a 1.7GHz quad-core Snapdragon processor; 4G LTE; 2GB RAM; and Android 4.1.2 "Jelly Bean," with HTC's Sense interface layered on top.
The HTC One will be available on AT&T, Sprint and T-Mobile and will ship in March, in either 32GB or 64GB varieties.
PHOTO GALLERY
The New HTC One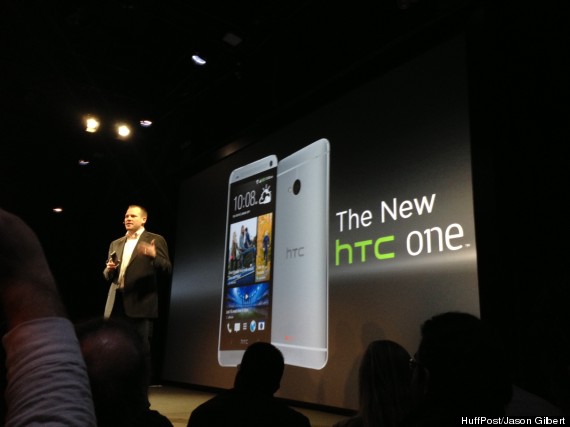 The HTC One, HTC's latest hero Android smartphone, is introduced by HTC President Jason Mackenzie at an event in New York City.
Updating...