On Tuesday morning, HTC outed its newest Android superphone, the HTC One. This latest development in the smartphone wars has set up an epic clash that is, at its heart, a battle of numbers, between the odd integers 1, 3 and 5.
That is, the HTC One, the Galaxy S III and the iPhone 5.
In this clash of titanic superphones, does the old adage that bigger is better hold true, with Apple's 5 taking the crown? Or is this more like a game of golf, where the lower your number the better, and a Hole in One heralds an HTC resurgence? Or does the number three somehow trump one and five -- like the "Star Wars" films, perhaps? -- with Samsung retaining its momentum in its takedown of Apple and all the other Android makers?
Numerology aside, which do you like: The all-aluminum, redesigned Android flavor of the HTC One; the smooth moves and good looks of Samsung's Galaxy S III; or Apple's super-slim iPhone 5?
We've got all the specs below. What's your lucky number?
You can read more about the HTC One here.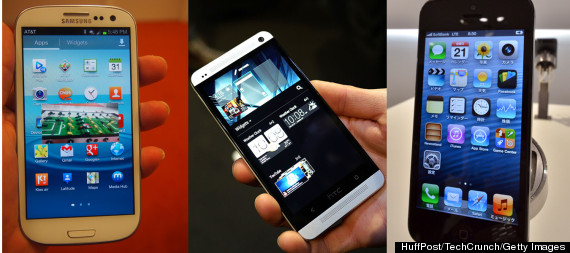 BEFORE YOU GO
PHOTO GALLERY
Power Up Your Android