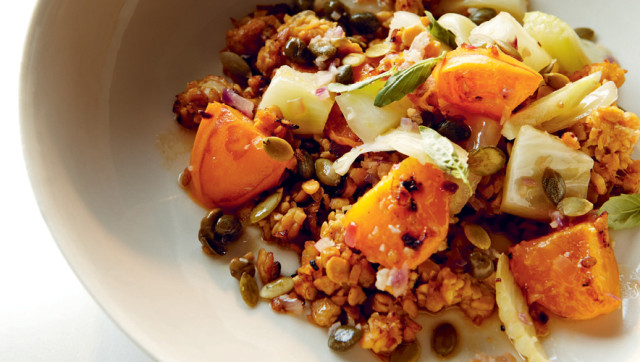 If you're new to vegetarian recipes, a little handholding can be helpful. Preparing tofu is nothing like cooking meat or poultry, and tempeh can be even more mysterious. Of course these vegetarian and vegan soy products are actually easy to work with, you just need a little know how. And once you have it, you'll be cooking up tempeh recipes like a pro.
Tempeh is similar to tofu only in that it's made from soybeans, but unlike tofu it's firm. While tofu acts as a sponge and easily soaks up other flavors, tempeh has its own slightly nutty and naturally sweet flavor. You can cook tempeh just as you would tofu (and you can also crumble it on top of soups and stews in place of croutons) but we really like it in a salad.
Get the Tempeh with Apricots and Capers recipe
Want to read more from HuffPost Taste? Follow us on Twitter, Facebook, Pinterest and Tumblr.
Not into tempeh? Check out these tofu recipes.
PHOTO GALLERY
Healthy Tofu Recipes