The times they are a-changin.
Demographics in the U.S. have been shifting for a while now. This shift has never been so obvious than during the last election when Hispanics made a significant dent in the outcome and helped President Obama achieve his victory.
Yet there are those that are not yet willing to accept that this is where the U.S. is headed. While some members of the Republican party have acknowledged this change, others still seem to be blinded to this fact.
In his latest cartoon Lalo Alcarez subtly imagines what will happen to those unwilling to adapt.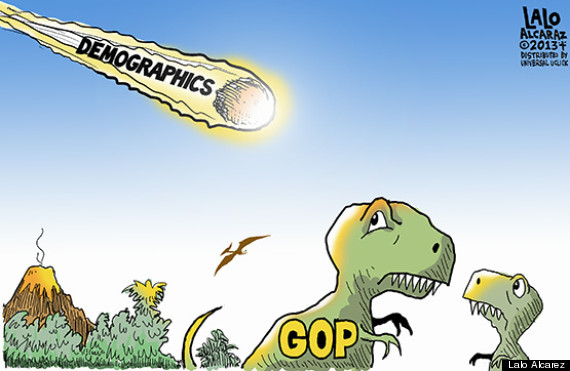 See more of Lalo's toons below.
About the artist:

Lalo Alcaraz is perhaps the most prolific Chicano artist in the nation, according to his own bio. Lalo has been busy for over two decades chronicling the political ascendancy of Latinos in America and vigorously pushing the boundaries of Chicano art in the Post Chicano Art Era.

An award-winning journalist and illustrator, Lalo is also an author, faculty member at Otis College of Art & Design in Los Angeles, and radio host. He is also the creator of the first nationally-syndicated, politically-themed Latino daily comic strip, "La Cucaracha."

Lalo's most recent project is a re-boot of the famed Pocho.com, his pioneering humor, satire and cerveza webzine/blog/news site.
PHOTO GALLERY
The Political Satire Comedy Of Lalo Alcaraz
BEFORE YOU GO