When we think of Abstract Expressionism, we often think of angst, aggression and a heavy dose of machismo. But what happens when an adorable seal arching its back is juxtaposed with a woman's arched back? Enter Bruce Helander, artist, Editor-in-Chief of The Art Economist, and, full disclosure, a HuffPost blogger. The Renaissance man's latest mixed media works at ArtHouse 429 in West Palm Beach, Florida, bridge the gap between abstraction emotion and recognizable -- and often nostalgic -- ready-made images.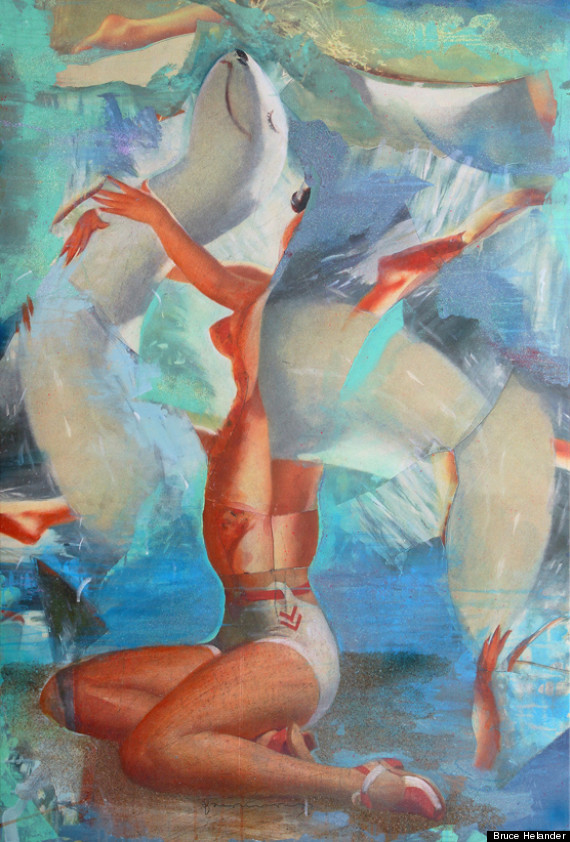 Helander's new exhibition remixes the traditional collages for which he is known by electronically transferring his collages onto raw canvas and blowing them up to a far greater scale. Thus what appears to be a textured surface is in fact a digital image, although said image is itself then immersed in a new collage process with spray paint, glitter and other unexpected materials.
In his subject matter Helander runs the gamut from heartwarming to disturbingly surreal. In "Water Bug," a hybrid creature part dog, part cat, and part butterfly, floats in front of an ominous marsh, at once overly cute and unsettling. Another work, called "Double Trouble," features two identical lingerie-clad women in what appears to be a kaleidoscopic hallucination or nightmare, depending on your mood. In both subject matter and material, Helander manages to layer influences and effects with glee.
"New Collages & Paintings by Bruce Helander" will show until March 16 at ArtHouse 429 in West Palm Beach, Florida.
PHOTO GALLERY
Bruce Helander
BEFORE YOU GO