Happy Birthday to Edward Gorey, the children's book writer and illustrator whose macabre illustrations gained a cult following from kids and adults alike. The ghoulishly dark artist, who illustrated books from H.G. Wells's "The War of the Worlds" to T.S. Eliot's "Old Possum's Book of Practical Cats," would turn 88 if he were still alive today. In honor of his birth, Google created a wonderful Doodle inspired by the works contained in the "Amphigory" collection.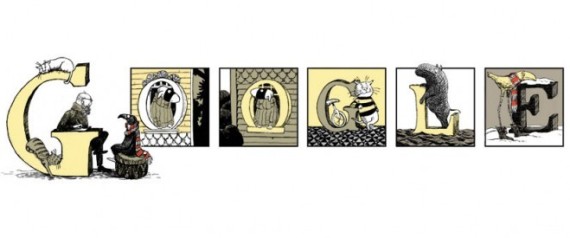 The Chicago-born illustrator spent one year of formal art training at the School of the Art Institute of Chicago before attending Harvard. In a wonderful twist of fate, his college roommate was the young poet Frank O'Hara. (We can only imagine what their arguments looked like.)
Gorey published his first book, "The Unstrung Harp," in 1953, and went on to publish a string of sweetly demented works -- including the beloved "Gashlycrumb Tinies" series -- often under anagram pseudonyms including Ogdred Weary, Dogear Wryde and Ms. Regera Dowdy. His thin, sallow-faced Victorian characters wore all black and seemed to mourn daylight, linking the artist to gothic subculture despite his own interests beyond the drawing board.
"He thought Golden Girls was hilarious," his friend Alexander Theroux told The Comics Reporter.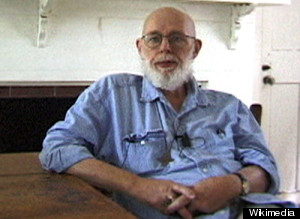 The late illustrator Edward Gorey in his kitchen. Photo courtesy of Wiki Commons.
Gorey passed away at 75 years old, but his legacy lives on in of "Lemony Snicket" author Daniel Handler, surrealist filmmaker Tim Burton, and in gothic youth everywhere. Happy Birthday, Edward!
Enjoy Matt Duplessie's video inspired by "The Gashlycrumb Tinies" below:
CLICK:
PHOTO GALLERY
Most Popular Google Doodles Of 2012