It's easy for Michiganders to represent their hometown by pointing to it on their hand. But one crafty expat took her love for home a step further with one of the coolest odes to the Mitten State we've seen yet.
Sarah Morgan grew up in Traverse City, but left for California five years ago after her marriage to a Marine. Now a graphic designer residing in North Carolina, she told HuffPost Detroit in an email she likes to experiment with other art mediums in her spare time. Tweaking a tutorial she found online, she came up with "Knitting the Mitten," made of poplar wood, small nails, string and red vinyl.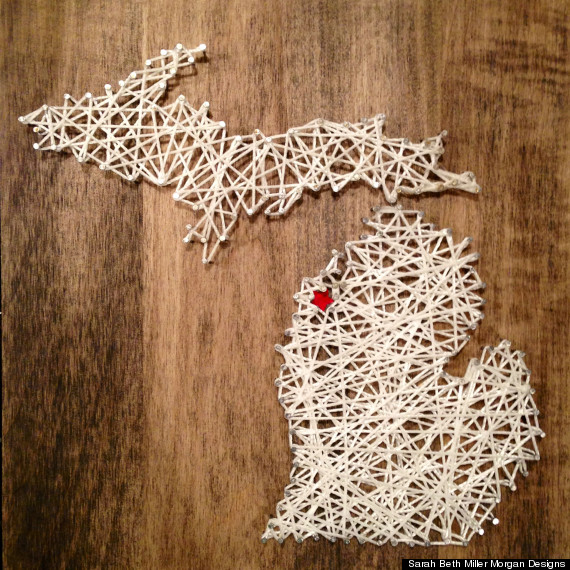 "Knitting the Mitten," by Sarah Beth Miller Morgan
Though Morgan no longer resides in Michigan, she says she's still attached to her birthplace.
"I am absolutely IN LOVE with Michigan," she wrote. "Growing up in Traverse City, always being surrounded by our crystal clear water and amazing woods, was an experience I hold tight to my heart. The ONLY thing I DON'T like about Michigan is the snow ... never been a fan, and in Northern Michigan we get A LOT of it, which is why I now live in the south. But Michigan will ALWAYS be my favorite state, and to prove it, I have the state tattooed on my side with a big NoMI going through it so all the SoCal folks in California knew where I called home."
We're pretty sure Morgan has proved her allegiance. She creates under the name SBMM Designs and can be reached by email for inquiries.
Are you a Michigan artist or crafter? Send us your Mitten State art!
Hat tip: Awesome Mitten.
CORRECTION: An earlier version of this story identified Sarah Morgan's last name as Miller in several instances. Morgan's full name is Sarah Beth Miller Morgan, with Miller being a middle name.
BEFORE YOU GO
PHOTO GALLERY
Craft Of The Day