Emad Burnat, the Palestinian director who was detained at Los Angeles International Airport last week on his way to Los Angeles to attend the Academy Awards, didn't pick up an Oscar on Sunday night.
Burnat is co-director on the documentary "5 Broken Cameras." The film lost Best Documentary Feature to "Searching for Sugar Man," a film about the search for Sixto Rodriguez, a failed singer-songwriter from the 1970s.
The director made waves when he was held up by security at LAX on Feb. 19. Burnat contacted Oscar-winning director Michael Moore to help him get into the country. Below, read Moore's series of tweets about the incident:
Burnat himself released a statement about the detention:
Last night, on my way from Turkey to Los Angeles, CA, my family and I were held at US immigration for about an hour and questioned about the purpose of my visit to the United States. Immigration officials asked for proof that I was nominated for an Academy Award® for the documentary 5 BROKEN CAMERAS and they told me that if I couldn't prove the reason for my visit, my wife Soraya, my son Gibreel and I would be sent back to Turkey on the same day.

After 40 minutes of questions and answers, Gibreel asked me why we were still waiting in that small room. I simply told him the truth: 'Maybe we'll have to go back.' I could see his heart sink.

Although this was an unpleasant experience, this is a daily occurrence for Palestinians, every single day, throughout he West Bank. There are more than 500 Israeli checkpoints, roadblocks, and other barriers to movement across our land, and not a single one of us has been spared the experience that my family and I experienced yesterday. Ours was a very minor example of what my people face every day.
"5 Broken Cameras" was nominated in the Best Documentary category alongside "Searching For Sugar Man," "How To Survive a Plague," "The Gatekeepers" and "The Invisible War." More about the Oscars 2013 ceremony can be found in the live blog below.
PHOTO GALLERY
Oscar Nominees 2013
02/25/2013 1:18 AM EST
Good Night, And Good Luck
That's all from the Oscars 2013 live blog here at HuffPost Entertainment! Hope you enjoyed the show. This is Christopher Rosen, signing off. 02/25/2013 1:07 AM EST
Ben Affleck Is Not Into Oscar Punditry
From backstage at the Oscars:
When did you feel a tipping point in your favor for this film?

Clooney: Michelle Obama.

Ben: When they gave us the trophies I was confident that we would win. I don't get too much into the Oscar-ology and the pontificating. It doesn't help me to read up on that stuff.
02/25/2013 1:06 AM EST
Daniel Day-Lewis' Facial Hair
Backstage at the Oscars with Daniel Day-Lewis:
Was it uncomfortable wearing the beard?

What do you mean? No it's just a beard. Do you wear your hair? It was my very own beard.
02/25/2013 12:54 AM EST
What Jennifer Lawrence Thought When She Fell
From HuffPost Los Angeles correspondent Sasha Bronner:
"A bad word. That starts with F."
02/25/2013 12:50 AM EST
Ben Affleck's Best Picture Winner Face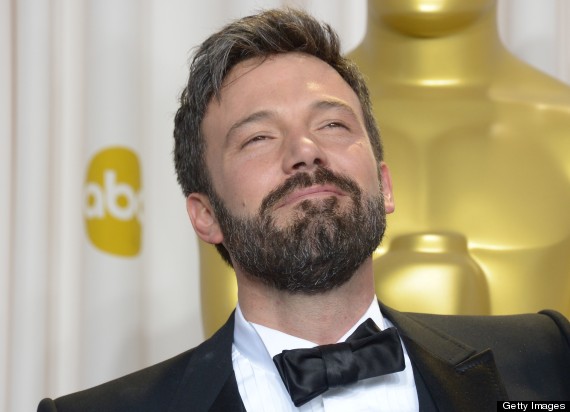 02/25/2013 12:49 AM EST
Patricia Clarkson At The Vanity Fair Oscar Party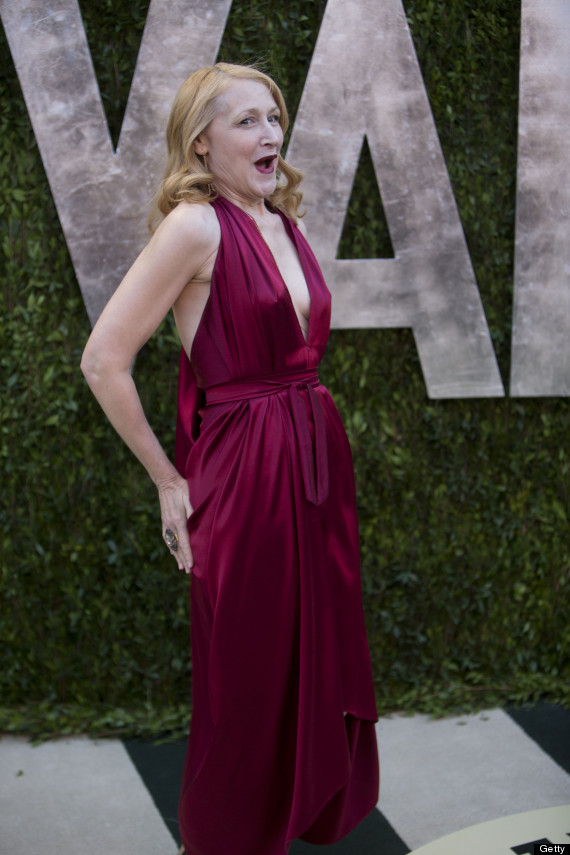 More on Patricia Clarkson's look here.
02/25/2013 12:44 AM EST
How Movies Change During Oscar Season
Here's Awards Daily blogger Sasha Stone just after "Argo" won Best Picture.
@ AwardsDaily :

See, I told you Argo was Crash incarnate. Won the same amount of awards even.
Here's Sasha Stone on "Argo" back in October:
Have you ever seen a movie where you walk out saying, "That was just a great f--king movie"? That's Ben Affleck's Argo. Inexplicably, a film that draws its strength from humor and suspense, winds up being more moving the second time through. Perhaps because once you have been through the suspense part of it you get to know the characters better and therefore care about their outcomes more.
02/25/2013 12:42 AM EST
Ben Affleck's Arc
@ LouLumenick :

Affleck: Oscar winner to laughingstock to Oscar winner. You can't make these things up.
02/25/2013 12:31 AM EST
At Least Someone Liked It
@ m1keh0gan :

Tommy Lee Jones told me Seth MacFarlane was "hilarious." His favorite part? "I Saw Your Boobs." #notkidding
02/25/2013 12:28 AM EST
Daniel Day-Lewis' Meryl Streep Joke
"It's a strange thing, because three years ago, before we decided to do a straight swap, I had actually been committed to play Margaret Thatcher, um..." he joked. "And Meryl was, was Steven's first choice for 'Lincoln.' And I'd like to see that version. And Steven didn't have to persuade me to play Lincoln, but I had to persuade him that, perhaps, if I was going to do it, that Lincoln shouldn't be a musical."
More on Daniel Day-Lewis' Oscar speech here.
BEFORE YOU GO