 Looks like the pressure worked!
D.C. filmmakers Sean Fine and Andrea Nix Fine took home the Oscar for Best Documentary Short for their film "Inocente." And they showed hometown pride while they did it.
Check out a photo of Sean's socks -- the pair tweeted this photo to Redskins quarterback Robert Griffin III: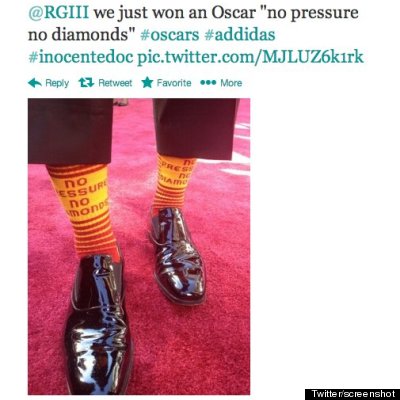 The gold and burgundy socks read "No Pressure No Diamonds" -- it's a quote attributed to Scottish philosopher Thomas Carlyle, more recently associated with RG3.
RG3's response?
Sean Fine's socks come from an Adidas sock collection dedicated to the 2012 Rookie of the Year. According to one sneaker blog, the socks "feature FORMOTION technology for natural motion and CLIMALITE fabric for moisture control," which sounds reassuringly high-tech on the red carpet or the football field.
Similar socks -- as well as "No Pressure No Diamonds" t-shirts and other paraphernalia -- are available on eBay. (Oscar statues not included.)
These socks aren't Sean Fine's only Redskins connection. As Washington Post columnist Petula Dvorak wrote in 2008, when the Fines were up for another Oscar, Sean is the grandson of Nate Fine, a much-loved Redskins photographer. Just before Nate Fine died in 1988, Dvorak writes, "the team dedicated its Super Bowl win against the Broncos to him. He had been with them for every game but one since the team came to Washington. (He missed a 1944 exhibition game against the Chicago Bears, for his honeymoon.)"
Watch the trailer for "Inocente" here:
Inocente Official Trailer from Shine Global on Vimeo.
PHOTO GALLERY
Oscars 2013 - Best And Worst Dressed - Vote For Your Favourite
BEFORE YOU GO