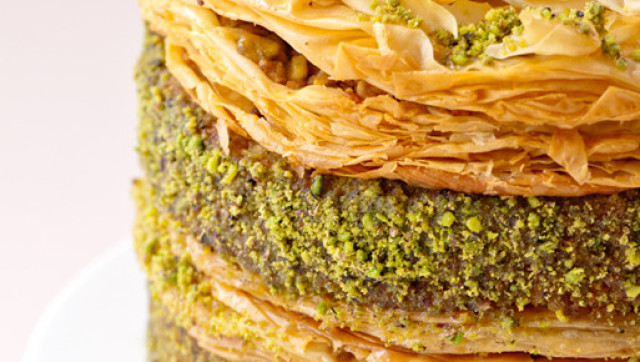 In a fusion of Middle East meets West, baklava melds with the layer cake. This is one of those desserts you make for someone you really want to impress: the in-laws you can never seem to win over, the boss who only notices you on the days you arrive late at the office, The Queen. But don't be afraid. Though this beautiful cake looks intimidating, you can make it. You'll find few cooks who are also rocket scientists. Take it slow, follow each instruction step by step, and you'll surprise yourself with the pastry skills you never knew you had.
PISTACHIO BAKLAVA CAKE
From Hungry Rabbit
Yield: One 6-inch cake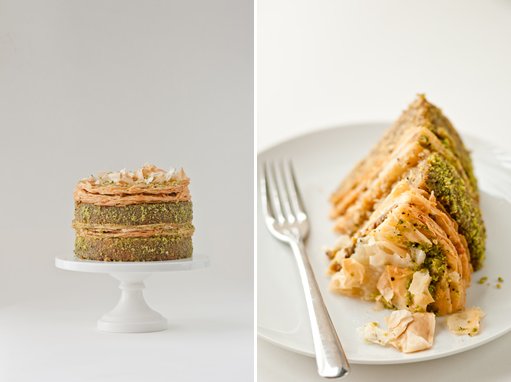 Cake Layer
2 cups Panko or regular bread crumbs (about 4 ounces)
1 cup pistachio, whole and roasted
2 teaspoons baking powder
1 teaspoon ground cinnamon
1/8 teaspoon nutmeg
4 large eggs, room temperature
3/4 cup (5-1/4 ounces) granulated sugar
4 ounces (1 stick) unsalted butter, melted and cooled slightly
Orange-scented syrup
1 1/2 cups pistachios, toasted and ground, for decorating
DIRECTIONS
1. Adjust oven rack to middle position and preheat oven to 350℉. Butter two 6-by-2-inch round cake pans; line each with a circle of parchment paper. Butter paper, and dust pans with flour; tap out excess. Set aside.
2. In a mini food processor, add panko, pistachio, baking powder, cinnamon and nutmeg. Process until finely chopped, set aside.
3. In the bowl of a stand mixer fitted with a whisk attachment, whisk eggs and sugar until thick and pale, about 5 minutes. The mixture should fall in a ribbon rather than a stream. Gently fold in nut mixture by hand with the whisk attachment. Add melted butter in a slow stream and fold into the batter with a rubber spatula.
4. Divide batter into the prepared pans and bake until cake tester inserted into center of cakes comes out clean, about 25-30 minutes. Cool cake on wire rack for 10 minutes, remove cake from pan and set it on cooling rack. Generously brush syrup on the top and sides of cake, let cool completely. Wash cake pans, to be used in baklava layers.
Baklava Layer
3 ounces (6 tablespoons) unsalted butter, melted
16 sheets of phyllo pastry
1 cups pistachio, toasted and ground
Orange scented syrup
DIRECTIONS
1. Fold phyllo sheets in half along the long edge. Use cake pan as template and cut out 8-inch circles, roughly 1-inch wider than the pan on all sides. Cover phyllo with damp towel.
2. Adjust oven rack to middle position and preheat oven to 350℉. Brush two 6-by-2-inch round cake pans with melted butter. Place one sheet of phyllo in one pan and fold in edges to fit the pan. Brush with melted butter. Continue this layering and brushing until you have 8 layers of pastry.
3. Scatter ground pistachio over the pastry and continue the layering and buttering for 8 more layers. Repeat process with the second pan. Place pan in oven and bake until golden brown and crisp on top, about 30-35 minutes. Remove pan from oven and slowly drizzle 1/4 cup of syrup into each pan. Set aside to cool completely.
4. While baklava layers are baking, roughly tear/chop up leftover phyllo into chards and brush generously with butter. Spread pastry chards on parchment lined baking sheet. When baklava are done, place baking pan in oven and baking until golden brown, about 18-25 minutes.
ASSEMBLY
1. Level top of the cakes with serrated knife to remove indent in the center of cake. Place one cake layer on cake stand or plate, brush top of cake generously with syrup. Place a layer of baklava on top of cake, brush top of baklava layer with syrup if it's not sticky, and top with second cake layer. Brush with more syrup and top with second baklava layer.
2. Brush baklava layer with more syrup to make it sticky. Decorate top with baklava chards, press slightly to make sure they adhere to cake.
3. Brush side of cake with syrup and apply ground pistachio evenly on the side of cake, pressing lightly to adhere. Sprinkle top of cake with more ground pistachio if desire. Serve.
This story appears in Issue 38 of our weekly iPad magazine, Huffington, in the iTunes App store, available Friday, March 1.