A Belgian guest lecturer at a university in the Netherlands was dismissed after he was caught watching a pornographic video on his laptop after class. But the man claims his visit to the verboden website was an accident, according to a Huffington Post translation of Flemish news outlet De Morgen.
In an interview cited by De Morgen, the professor said that he didn't visit the site on purpose, and that he wasn't used to working with a laptop.
Scroll For Photo (NSFW)
Whether it was a moment of weakness or an honest mistake made little difference to the Dutch university administration, who asked the guest lecturer not to return.
"The teacher should not come back," a university spokesman said, according to the Dutch-language VRT. "It's forbidden to watch such sites here. Permanent staff is issued a warning, visiting professors have to leave immediately."
The professor, who has not been publicly identified, taught advanced food chemistry at Wageningen University and has a reputation as an "excellent professor" among students, according to a HuffPost translation of a story by Belgian-based HLN.
The professor visited a pornographic website following a Feb. 19 class that was being recorded for the Internet. The teacher forgot to disconnect his screen share after class, which resulted in his showing "labia instead of phospholipids" to anyone still tuned in, per a HuffPost translation of Dutch website Resource.
A student was able to take a screen shot and emailed it to other students, according to a HuffPost translation of Gazet van Antwerpen. That email eventually ended up in the inbox of a university official.
CNet's Chris Matyszczyk expressed a touch of tongue-in-cheek sympathy for the porn-watching professor:
"You might think this was discreet enough. Just. The classroom was empty of students. The professor had just finished his lecture. And politicians in parliaments do it all the time."
Gawker called the professor a "daredevil" for watching porn at work, even in an empty classroom.
(Via Reddit)
LOOK: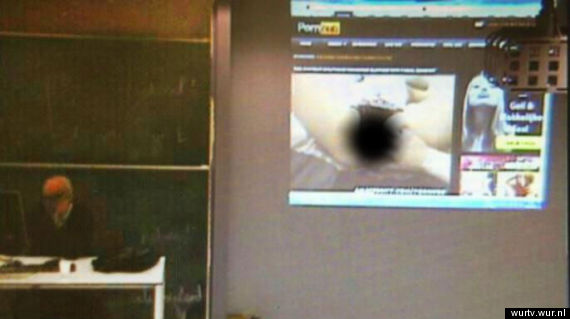 BEFORE YOU GO
PHOTO GALLERY
Oops! Accidental Porn