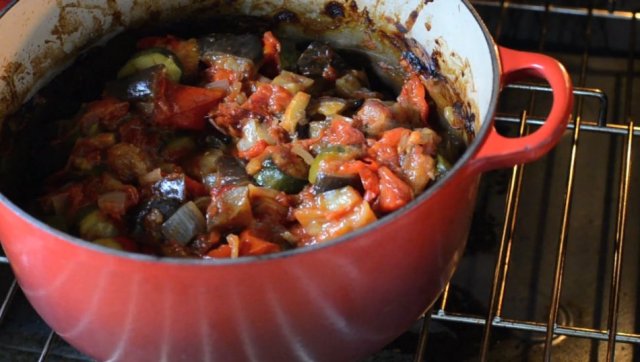 Because we cook a lot of our own meals, we know that it can sometimes feel tedious. Which sometimes means that we rush through it as quickly as possible, drawn to the idea of the 10-minute meal. When we talked about slowing down with Carne Adovada recently, we discussed the merits of slow cooking meat in chiles and enjoying the smell that permeates your entire living space while you do so. Slowing down your cooking process on purpose can be almost meditative, and once you find your slow cooking groove, you'll probably find yourself enjoying it way more than a five-minute-mad-dash-frittata.
Today, we're talking about slowing down with a ratatouille recipe. Since we already touched on Beef Bourguignon and Carne Adovada, we wanted to offer up a vegetarian way to slow down while you cook. Ratatouille is often called peasant food, which does such a crazy injustice to the richness of this spectacular dish. This slow cooked, hearty vegetable stew lends itself to being made in huge batches, since it tastes twice as good the next day and keeps beautifully.
There are a gazillion methods for making ratatouille -- you can slow cook it, roast it, sautée it, or get crazy with your mandoline and make it in the fussy style of a very famous cartoon mouse. The method we want you to try first is one of the rare, wonderful methods of making this dish that is both mandatorily slow and really, really simple.
The lovely Jules Clancy will walk you through it in the video below, but you are going to throw a couple onions, eggplants, zucchinis, peppers and cans of whole peeled tomatoes into a heavy, oven-safe pot and cook it for a LONG time. We like to add some herbs de Provence to ours, and a pinch of hot red pepper flakes. That's the other great thing about ratatouille, the more times you make it, the better you know how you like to eat it. Once this roasts down into the oven, concentrating all those vegetable juices and olive oil right back down into the vegetables themselves, you'll want to serve it up in a giant bowl, with a hunk of crusty bread and maybe a little goat cheese on top.
This dish will bring anyone back to their childhood in Provence -- even if you've never been. Time you'll spend prepping this dish: 10 or 15 minutes. Time this dish will spend doing delicious things in the oven: about 4 1/2 hours.
Want to read more from HuffPost Taste? Follow us on Twitter, Facebook, Pinterest and Tumblr.
BEFORE YOU GO
PHOTO GALLERY
Slow Cooker Recipes