If you aren't selected to receive an early pair of Google's augmented-reality spectacles, don't worry. You can always buy them on eBay -- if you have $15,000, that is.
That was the going rate for a pair of Google Glass put on the auction site by user "bla7kcat" last week. In that timespan the price had ballooned from something resembling the $1,500 retail price to over $15,000 with over 30 bids placed. The auction has since been taken down.
The seller in Cleveland claimed to be one of the creative types chosen to receive the glasses early as a part of Google's "If I Had Glass" promotion. In a description rife with spelling errors, "bla7kcat" said:
I've been selected as an early adapter for Google's upcoming release. You are buying a brand new unopened pair of Google's Project Glass glasses. I will be personally attending and picking up my pair in either Los Angeles, or New York at Google's Project Glass launch event, which will take place some time after Feburary 27th. As for what colors will actually be available, will vary, if I am offered a choice, I will choose the color of your choice…
"bla7kcat" actually has a positive selling history on eBay, with transactions including "high quality sheet metal paperclips," and a 16 GB flash drive, among other things.
Still, many signs point to the auction being a farce. Though Google's "If I Had Glass" guidelines do not explicitly prohibit the reselling of the device, the company has said that they would not be notifying winners until mid-March. The only photos accompanying the auction were stills released by Google themselves.
A representative from eBay confirmed to HuffPost that the auction "was removed as it was in violation of our presale listings policy."
See a picture below of the auction before it was taken down: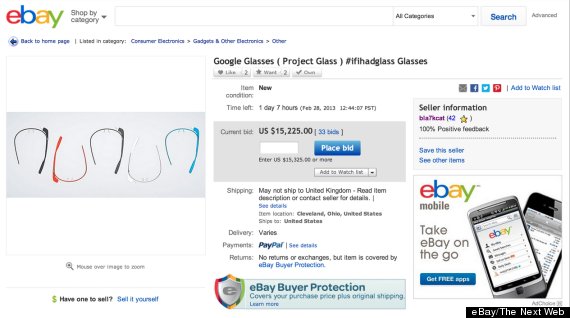 [H/T Digg]
BEFORE YOU GO
PHOTO GALLERY
Every Picture Of Google Glasses So Far