¡Hasta luego, Benedicto!
In an (almost) never before seen move, Pope Benedict XVI, announced he would resign on Feb. 28. He cited health concerns as the reason for his departure.
Although many were shocked by the news, the Pope's brother Georg Ratzinger, said the religious leader had been thinking about it for some time now. Ratzinger also mentioned that his brother had been particularly affected by the Vatileaks scandal, and felt that a younger person was needed to keep up with today's changing times.
Cartoonist Lalo Alcaraz has his own take on the Pope's resignation depicted in the cartoon below.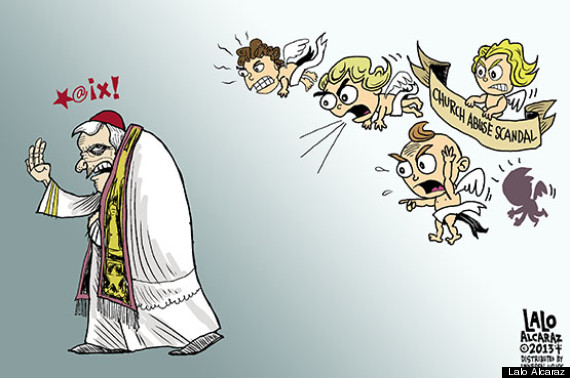 See more of Lalo's toons in the slideshow below.
About the artist:

Lalo Alcaraz is perhaps the most prolific Chicano artist in the nation, according to his own bio. Lalo has been busy for over two decades chronicling the political ascendancy of Latinos in America and vigorously pushing the boundaries of Chicano art in the Post Chicano Art Era.

An award-winning journalist and illustrator, Lalo is also an author, faculty member at Otis College of Art & Design in Los Angeles, and radio host. He is also the creator of the first nationally-syndicated, politically-themed Latino daily comic strip, "La Cucaracha."

Lalo's most recent project is a re-boot of the famed Pocho.com, his pioneering humor, satire and cerveza webzine/blog/news site.
PHOTO GALLERY
The Political Satire Comedy Of Lalo Alcaraz
BEFORE YOU GO