According to Investment News, a painting by French Post-Impressionist artist Paul Gauguin is at the center of an investment scandal, enacted by former NFL player Russell Allen Erxleben. The retired kicker was arrested last month after he allegedly amassed over $2 million through a complicated Ponzi plot that included an opportunity for investors to buy into the purchase of Gauguin's "The Sorcerer of Hiva Oa," which Erxleben claimed was worth $58 million.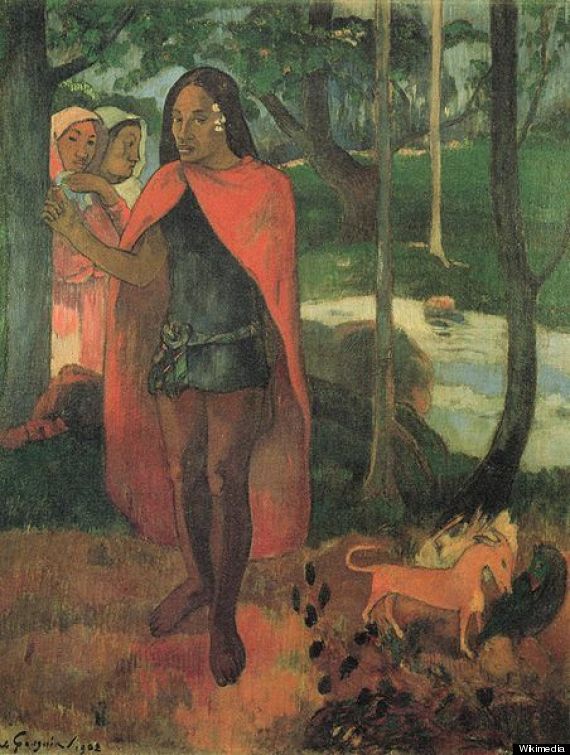 Paul Gauguin, "The Sorcerer of Hiva Oa," 1902, oil on canvas, 92 × 73 cm (36.2 × 28.7 in), Musée d'Art moderne
The fine arts scam supposedly began in 2009 and was run under the false identity of a company called The Gauguin Partners, LLC, an organization formed by two unnamed individuals "who located and contracted to purchase" the Gauguin masterpiece, reports The Art Newspaper. But, according to the indictment, Erxleben wasn't actually a part of The Gauguin Partners or associated with them in any way; instead, he allegedly used the company's name to solicit investors for money to authenticate the painting.
Confusing? There's more: the painting in question -- or at least a work of the same title, dated to 1902 -- is currently in the collection of the Musee d'art moderne et d'art contemporain de Liege (Museum of Modern Art and Contemporary Art) in Belgium. The museum told The Art Newspaper that it is not involved in any legal discussions concerning the work and that the Gauguin painting is "inalienable" public property. Essentially, there's no way they would be planning to sell it, for any price.
Erxleben, who was sentenced to seven years in prison for defrauding investors of $36 million back in 1999, faces up to 110 years in prison if he is found guilty for his ponzi plot, charged with five counts of wire fraud, one count of securities fraud and two counts of money-laundering, CBS reports.
This isn't the first instance of someone attempting to make money off paintings he didn't own, however. According to the Wall Street Journal, former art dealer Lawrence B. Salander admitting to stealing millions of dollars from collectors in 2010 by luring them into investing in "fraudulent ownership interests involving works of art." For his failed fine arts endeavor, Salander is serving a prison sentence of up to 18 years.
BEFORE YOU GO