The 2013 Tribeca Film Festival will open with the world premiere of "Mistaken For Strangers," a new documentary about indie rock band "The National." Set for the festival's first night on April 17, the debut of "Mistaken for Strangers" will be immediately followed by a special performance from The National.
"Mistaken for Strangers" is directed by Tom Berninger, whose brother, Matt Berninger, is the lead singer of The National. From the official synopsis of the film, provided by Tribeca:
Mistaken for Strangers follows The National on its biggest tour to date. Newbie roadie Tom (lead singer Matt Berninger's younger brother) is a heavy metal and horror movie enthusiast, and can't help but put his own spin on the experience. Inevitably, Tom's moonlighting as an irreverent documentarian creates some drama for the band on the road. The film is a hilarious and touching look at two very different brothers, and an entertaining story of artistic aspiration.
Last year, the romantic comedy "The Five-Year Engagement" kicked off the Tribeca Film Festival. The prestigious fest, now in its 12th year, also featured "Marvel's The Avengers" as its closing night film in 2012, as well as a full slate of well-reviewed indie films and documentaries.
"'Mistaken for Strangers' exemplifies the independent spirit and vitality that Tribeca is excited to showcase every year," Geoff Gilmore, Tribeca's Chief Creative Officer, said in a press release. "We are thrilled to open with a film that embodies the journey of an independent filmmaker, and is at its core a highly personal and lighthearted story about brotherly love. It will be a great night of both indie film and music."
"We're really happy to premiere this movie at Tribeca, as New York has been home to us for these past 15 years," Matt Berninger said. "I was happy to give my brother whatever access he needed. I just didn't expect this movie to include shower scenes."
"Mistaken for Strangers," which takes its name from a song by The National, coincides with the upcoming release of the band's newest album, which is set for release in May. The National will also embark on a world tour in 2013.
The 2013 Tribeca Film Festival runs from April 17 through April 28. The full slate of films debuting at the New York fest will be announced on March 5-6. Check back to HuffPost Entertainment for full coverage of the 2013 Tribeca Film Festival.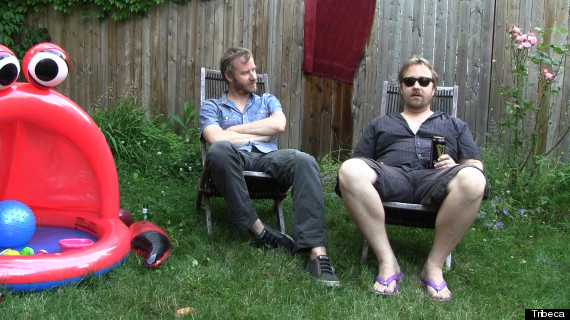 PHOTO GALLERY
Music By The National
BEFORE YOU GO