If you have a Starbucks gift card lurking amidst your forgotten coupons, here's a good reason to dig it out. Beginning Thursday, Starbucks will load an extra $5 to any card that gets registered online to the chain's My Starbucks Rewards program. The deal ends March 14.
In an email to The Huffington Post, a Starbucks rep divulged that a shocking one in 10 Americans received a gift card for the coffee chain over the holidays last year, which translated into $1 billion in gift-card cash. Unfortunately for consumers, that could mean a lot of wasted mocha lattes -- $1.7 billion of 2012's total $110 billion in gift-card sales for all companies will go unused, according to research company CEB Tower Group.
Starbucks has been playing up its loyalty program in recent months. In December, it announced plans to allow customers to earn points on the card with purchases of bagged coffee at supermarkets and other retailers. Card holders currently only earn points on Starbucks store purchases, which over time can translate to free Starbucks products.
This recent promotion is likely an effort to gather more members for the program.
If you're still on the fence about this whole promotion thing, Starbucks makes a compelling argument in the below graphic.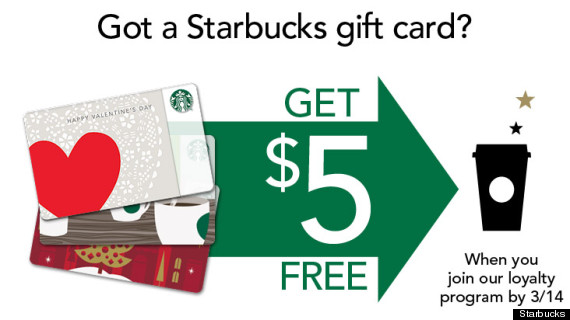 BEFORE YOU GO