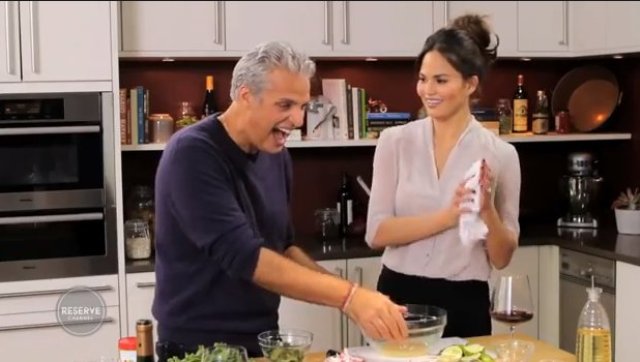 It appears that every woman who enters the "On The Table" kitchen just can't wait to start bossing Eric Ripert around. Which, it appears, he absolutely loves and so do we. It happened with Gail Simmons when they made Welsh Rarebit, and it happens again this week when Chrissy Teigen cooks pork jok. The half Thai, half Norwegian supermodel is every bit as loud, brash and fun as we all hoped she'd be, and manages to handle herself pretty well in the kitchen -- despite clearly being aware that she is in the presence of a cooking legend. (Don't blush, Eric. We're not going to stop saying things like that.)
Pork jok is a Thai version of congee, the Chinese rice porridge that makes one of our favorite breakfasts of all time. Pancakes are great, but some of us want to eat garlic, chile and vinegar as soon as we are conscious. There's also a spicy Thai beef salad in the works, which is probably what we have to eat for lunch now. In this episode, Chrissy and Eric talk modeling, how to eat like a food nerd while modeling, Chrissy's fiancé John Legend, and Teigen even cracks a prostitution joke. We kind of didn't realize we liked her so much?
If you can't get enough of Chrissy Teigen in the kitchen, we have great news: she's about to launch her very own cooking show on the Cooking Channel, "Chrissy Teigen's Hungry." And, if you can't get enough spicy congee, we have even more good news, Teigen's recipe for pork jok follows below. (If you can't get enough Eric Ripert, go watch all the "On The Table" episodes so far on YouTube's Reserve channel.)
Chrissy Teigen's Pork Jok
1 1/2 c uncooked Jasmine rice
2 lbs coarsely ground pork with plenty of fat (70/30)
2 tbs coriander seeds
2 tbs black peppercorns
2 tsp ground white pepper
LOTS OF GARLIC
bunch of cilantro
bunch of green onions
2 tbs. sea salt
1 tbs. fish sauce
giant stockpot
Condiments on the side (which are totally what make this dish awesome)
fried garlic
chili oil
ground chili powder
Thai chili pickled in vinegar
finely shredded ginger root, long, julienned strips
Thai chili sliced in fish sauce
Marinate pork with coriander, black peppercorns, garlic (all mashed up in Thai mortar/pestle, coarsely), ground white pepper, fish sauce. Fridge overnight.
Boil stockpot filled with water. Add dry rice and boil down until consistency of soupy oatmeal. It's amazing how little rice you need to get it to thicken up nicely. Add bits of the pork mixture; not like meatballs, but I like them dropped in, rustic style, big pieces, small pieces. Let boil down, stirring a lot, until it boils down to desired thickness. Just before serving, add chopped cilantro and green onion.
To serve, ladle into large bowl and top with your desired condiments, and I add extra cilantro and green onion on top for garnish. I always eat Jok with a lot of fried garlic, chili oil, and pickled vinegar!
Want to read more from HuffPost Taste? Follow us on Twitter, Facebook, Pinterest and Tumblr.
BEFORE YOU GO
PHOTO GALLERY
Vegetarian Thai Recipes