Looks can be deceiving when it comes to Australian-born artist Ron Mueck. Working in the realm of hyperrealism, he creates jaw-dropping installations that at first glance appear to be comprised of actual human beings, stripped down to their birthday suits in the middle of a gallery. But closer inspection reveals how the artist plays with scale in his life-like nudes, creating larger-than-life (or smaller versions) of frail human subjects with spider veins, fat, and tangled hair.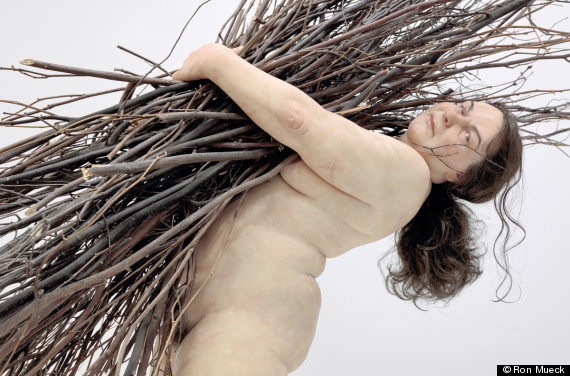 The image above, which was previously on view at Hauser & Wirth in New York, shows a naked middle-aged woman desperately grasping a gigantic bundle of sticks. From the faded brown hair to the wrinkles on the figure's elbows, it's almost impossible to identify any signs that the work is made from silicone rubber and not flesh.
Mueck, who was born to a German toy-making father, started his career as a model maker and puppeteer for children's films (anyone remember Labyrinth?). It wasn't until the late 1990s that the gifted sculptor turned to fine arts, crafting unique works of art that leave us stunned.
Whether the artist is a late bloomer or not, we're just glad he's found his calling. Scroll through a slideshow of Mueck's work and studio below. For more images, check out these photographs, courtesy of Gautier Deblonde.
BEFORE YOU GO